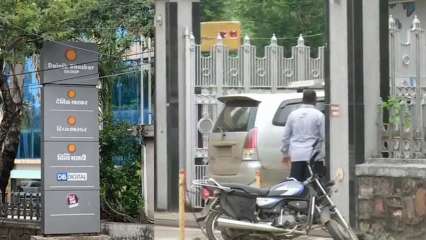 The income tax department raided several offices of the Dainik Bhaskar group on Thursday in connection with an alleged tax evasion case.
It is said that the IT department carried out searches at the home of the owner of Dainik Bhaskar at 5 a.m. During this time, a large number of CRPF members were present. During the search, a team from the department was present at the home of the owner of DB Group, who checked the documents there.
According to reports, raids were carried out on the Bhopal, Noida, Jaipur and Ahmedabad premises of the Dainik Bhaskar group. The search was also carried out at the residences and offices of the group's promoters as well as a few other employees.
The publication said the cell phones of employees in the offices during the raid were confiscated and they were not allowed out. Night workers have also been banned from leaving the office.
Searches by the IT department have reportedly followed information on tax evasion and suspected cases of related party transactions and back and forth cases of funds. The Department suspects the Dainik Bhaskar group of having committed tax evasion through its associated companies. It should be noted that apart from print and digital media, the Dainik Bhaskar Group is also active in many other companies.
Besides Bhaskar, raids were also carried out on the offices of Bharat Samachar, a news channel based in Uttar Pradesh. The research operations were carried out at his office in Lucknow and at the publisher's residence. News reports claimed the raids were based on the channel's "evidence of tax evasion".
Criticizing the government for "using ED and computers as weapons," former Madhya Pradesh chief minister and congressman Digvijaya Singh took to Twitter and said agents of the Income taxes were present in around 6 premises of the group, including its office at the Press Complex in Bhopal.