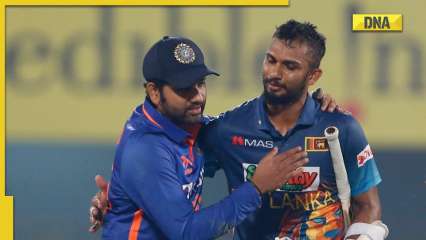 Indian skipper Rohit Sharma congratulates Sri Lanka's skipper Dasun Shanaka on his century in 1st ODI match against India | Photo: ANNI
Speedster Mohammed Shami wrote a key moment of contention with only a few deliveries left in the IND vs SL match in Guwahati on Tuesday. With Sri Lankan skipper Dasun Shanaka on 98, Shami ran him out at the non-striker's end as he came to bowl in the final.
The type of dismissal, informally referred to as 'Mankading', is now legal in cricket. However, Captain Rohit Sharma and team India decided to withdraw their appeal and let Shanaka reach a well-deserved century.
After the match, India captain Rohit Sharma revealed why he withdrew the appeal for a perfectly legal dismissal and allowed Shanaka to remain on the crease. Sharma said he didn't know his pacesetter Shami would dislodge Shanaka that way. The skipper of the Indian and Mumbai Indians said why they did not support the dismissal saying "We're not going to get him out like this".
"I had no idea Shami had done that. When he appealed… Again, him [Shanaka] batted 98. The way he batted was brilliant. We have to give it to him. We can't get him out like this. We wanted to get him out the way we thought we were going to get him out. But that wasn't something we thought about. But again, hats off to him, he played really well," Sharma said after the game.
The dismissal is a major topic of conversation in cricket that has divided the brotherhood. Although the International Cricket Council (ICC) legalized the run-out at the end of rush hour last year, many still feel it goes against the spirit of the game.
READ | IND vs SL 1st ODI: Virat Kohli's 45th ODI century leads India to 67-run victory vs Sri Lanka
(with input from ANI)