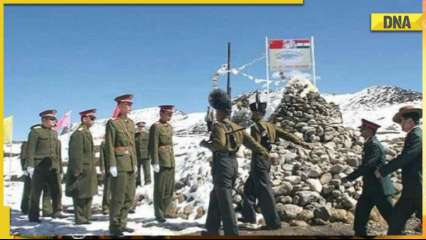 Indian and Chinese armies on Monday sent their frontline troops back to the rear locations of the Patrolling Point 15 confrontation site in the Gogra-Hotsprings area of ​​eastern Ladakh and dismantled temporary infrastructure there as part of a five-day withdrawal process.
People familiar with the development said the two sides parted ways as per the plan, which also involved joint verification of the entire process.
"Full details of the withdrawal and verification process are awaited from ground commanders," a source said.
Although the two sides withdrew from Patrolling Point 15 (PP-15), no progress has been made in resolving the deadlock in the Demchok and Depsang regions.
The Indian and Chinese armies announced on September 8 that they have started the process of withdrawing the PP-15, in a major move forward in the stalled process of withdrawing troops from the remaining points of friction in the region.
When asked about the withdrawal of PP-15 on the sidelines of an event, Army Chief General Manoj Pande said: "I'll have to take stock. But the (exit process) is on schedule and what has been decided".
The above people said that all temporary infrastructure created at the face-off site has been dismantled.
It is not immediately known whether the two sides will create a "buffer zone" at PP-15, as was done after troops were withdrawn last year at friction points on the north and south shores of Pangong Lake and at Patrol Point 17(A). .
No party patrols the buffer zone.
As a result of a series of military and diplomatic talks, the two sides completed the withdrawal process on the north and south shores of Pangong Lake and in the Gogra area last year.
The withdrawal in the Pangong Lake area took place in February last year, while the withdrawal of troops and equipment at Patrolling Point 17 (A) in Gogra took place in August last year.