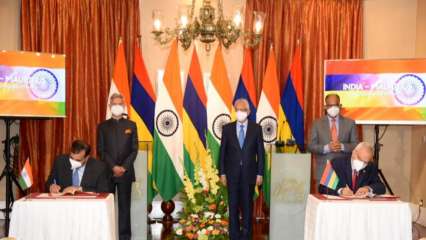 In a major development, India signed a Free Trade Agreement (FTA) with Mauritius during the visit of Minister of External Affairs, Dr S Jaishankar, to the country. The FTA or CECPA is the first pact of its kind with an African country and is seen as an important step in trade relations.
The Minister of External Affairs, alongside Prime Minister of Mauritius Pravind Jugnauth, said: "India is privileged to have concluded a Comprehensive Economic Cooperation and Partnership Agreement (CECPA) with Mauritius. This will provide a welcome boost for the revival of our post-COVID economies and also allow Indian investors to use Mauritius as a springboard for commercial expansion in mainland Africa, thus contributing to the emergence of Mauritius as a "hub of Africa ".
CECPA offers preferential access to Mauritius for most of the trade. These include frozen fish, specialty sugar, cookies, fresh fruit, juices, mineral water, soaps, bags, medical and surgical equipment, and clothing. One of the main immediate impacts is that Mauritius will obtain preferential access for the export of 40,000 tonnes of sugar to India and also access for the export of 7.5 million garments.
With the aim of making Mauritius a "strategic regional economic hub", Prime Minister Pravind Jugnauth said: "CECPA is the first of its kind signed by India with an African country. This historic agreement is far-reaching. and will open up new and expanded business opportunities., goods and services … CECPA will encourage Indian entrepreneurs to invest both in Mauritius and across the region. "
In the service sector, India has proposed 95 sub-sectors of 11 major service sectors. This can boost Indian investment in the service sector in Mauritius, particularly in the ICT sector, with Indian companies leveraging Mauritius' bilingual prowess for investments in Francophone Africa. The service sector represents 76% of Mauritius' GDP.
In addition to the FTA, the two countries strengthened their defense engagement with India by providing a $ 100 million Defense Line of Credit (LOC) to this Indian Ocean island nation. An agreement was also signed for the supply of a Dornier aircraft and an Advanced Light Helicopter Dhruv for rental in Mauritius free of charge for 2 years. This will strengthen the country's capacity to patrol and monitor its vast maritime domain more effectively.
Prime Minister Jugnauth said: "Ensuring peace and respect for the rule of law in the Indo-Pacific region" was discussed with EAM. Adding: "I welcome the renewed commitment of the Quad countries to the defense of a rules-based international order, underpinned by respect for territorial integrity and sovereignty, the rule of law, transparency, freedom of navigation in international waters and the peaceful settlement of disputes. Adherence to these principles is crucial. "
A memorandum of understanding on consumer protection and a contract for an 8 MW solar power plant was also signed. India has donated 100,000 doses of covid vaccine to the country. This is the second shipment of 100,000 dose COVID vaccine administered by India. Mauritius has also requested 200,000 additional doses of vaccines.
Interestingly, with Mauritius and the Maldives, India has strengthened its defense partnership. Over the weekend, India and the Maldives signed a pact to "develop, support and maintain" a Maldives National Defense Force coastguard port in Sifvaru (Uthuru Thilafalhu) and extended by 50 million dollars the defense LOC.
.