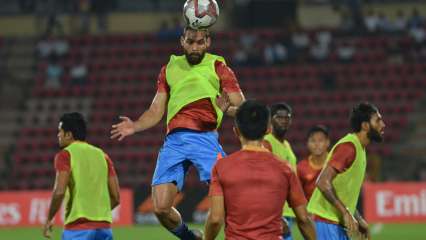 The defender of the Indian soccer team, Adil Khan, believes that the team is moving forward and growing on " the right track ", which corroborates his new motto – " Indian football ". Move forward together ".
"Indian football is developing in the right direction and on the right path. I just wish (Indian football) continues to grow as it has been and tries to maintain the quality," said the 32-year-old defender at the time. from a television interview with AIFF. , a year after facing his Bangladeshi neighbors at Salt Lake Stadium in Kolkata.
@ adilahmedkhan08: #IndianFootball moving on the right track

Read https://t.co/QtxOVIfoiI#BackTheBlue #BlueTigers #IndianFootballForwardTogether pic.twitter.com/zdZuUvWkQv

– Indian Football Team (@IndianFootball) October 29, 2020
He praised the authorities for the resumption of football actions in the country following the lockdown imposed due to the COVID-19 pandemic.
"It's great! After more than seven months without any football activity we are back on the pitch. I have been following the I-League qualifiers closely and have noticed the positive buzz surrounding it – that's fantastic. Congratulations to AIFF for bringing sport, let alone football, one step closer to normalcy. "
He added: "It was difficult for everyone involved in football – supporters, owners, players and every stakeholder. Our pre-season has also started. I am very excited and hope everyone is.
Indian football. Moving forward together #IndianFootballForwardTogether pic.twitter.com/4hK19n3f4H

– Indian Football Team (@IndianFootball) October 5, 2020
"Following a worsening injury that interrupted his football career, Adil came back strongly to appear for the Blue Tigers after a seven-year hiatus. The strong center-back praised the changes that have been made in Indian football to advance the things, as players, can now benefit from a better infrastructure.
"In my early days there was a dearth of quality pitches. The infrastructure, the facilities have improved dramatically since then. These things always help a player realize their true potential. It has helped Indian players perform better. "said Adil.
"Previously, teams relied heavily on outsiders to get results. But the scenario has changed recently. Indians have taken responsibility and proven their worth. They score goals, provide assists, take guards in the defensive half, tackle each other with more conviction – only to move Indian football forward, "said the defender.
.