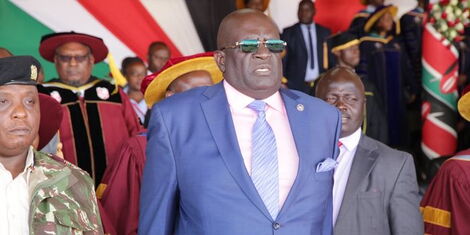 Prof George Magoha was without a doubt a big name in medicine and academia in the country.
From his days as Vice Chancellor of the University of Nairobi to one of his last major assignments at the helm of the Ministry of Education, Magoha has always left a mark in most of the places where he worked.
His accolades in academia are enviable as he has received several awards, including one in executive management from Stanford University, Graduate School of Business.
Former education CS George Magoha attends Chuka University graduation ceremony on Friday, October 14, 2022.
Ministry of Education
He also attended other notable institutions in the world including University College Hospital, Ibadan, Royal College of Surgeons, Dublin, Ireland and Royal Postgraduate Medical School Hammersmith Hospital, London, Department of Urology where he earned several academic honours.
The depth of his experience and wealth of knowledge was the talk of the town at one point when he presented a 90-page curriculum vitae during his vetting before being appointed as Cabinet Secretary for Education in 2019.
After graduating with a bachelor's degree in medicine from the University of Lagos, Nigeria, Magoha embarked on what would become an illustrious career later in life.
He started from low beginnings as an intern at the Lagos University Teaching Hospital before rising through the ranks and eventually taking up the position of Senior Resident and Clinical Lecturer in Surgery at the same facility.
He would later return to Kenya in 1988 to join UoN as a lecturer in urology. As was customary in his previous jobs, he rose to professorship in the institution's School of Medicine.
Magoha would later call the UoN his second home for years to come, shifting from one administrative position to another for decades. His work at the university earned him recognition and respect, which later played a role in his promotion to Vice Chancellor of one of the most renowned universities in the region.
He is credited with helping UoN gain recognition at home and abroad after leading it to achieve an "Excellent" rating in performance contracts.
During his tenure, Magoha also helped the university register tremendous growth in both capacity and infrastructure to take an exalted position as a renowned institution.
After his retirement, Magoha worked in a variety of institutions and organizations, including his stint as president of the African Network of Scientific and Technological Institutions (ANSTI), an umbrella that the field of science and technology.
After a series of complaints about rampant cheating in the national exams, the state turned to the services and competencies of Magoha, who was known for his boldness and no-nonsense approach to his work.
Indeed, his tenure as president of the Kenya National Examination Council (KNEC) between 2016 and 2018 was seen as a sea change and a moment when the national exams regained credibility.
Working with his former colleague at the University of Nairobi and the then Cabinet Secretary for Education, Dr Fred Matiang'i, Magoha slammed the brakes on the rampant fraud cases and decided to turn a deaf ear to the critics and challenges that came his way .
He would later be elevated to the position of Cabinet Secretary at the start of retired President Uhuru Kenyatta's second term in 2019.
He held this position until the end of Kenyatta's term in 2022. Even during the busy and drawn-out election period, Magoha was seen as one of the few government officials still focused on the activities that come with their role.
He crisscrossed the country inspecting the then-in-progress construction of classrooms intended to house the junior high school, of which he had served as steward during the implementation phase.
After a hiatus from active administrative roles, Magoha was recalled in January 2023 when Maseno University appointed him Professor of Surgery in the institution's School of Medicine.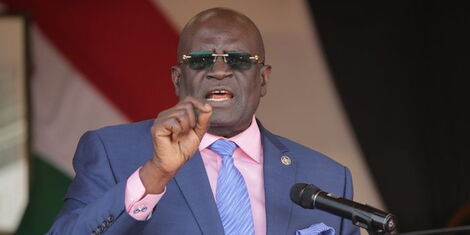 Former education CS George Magoha addresses the congregation at Chuka University's graduation ceremony on Friday, October 14, 2022.
Ministry of Education