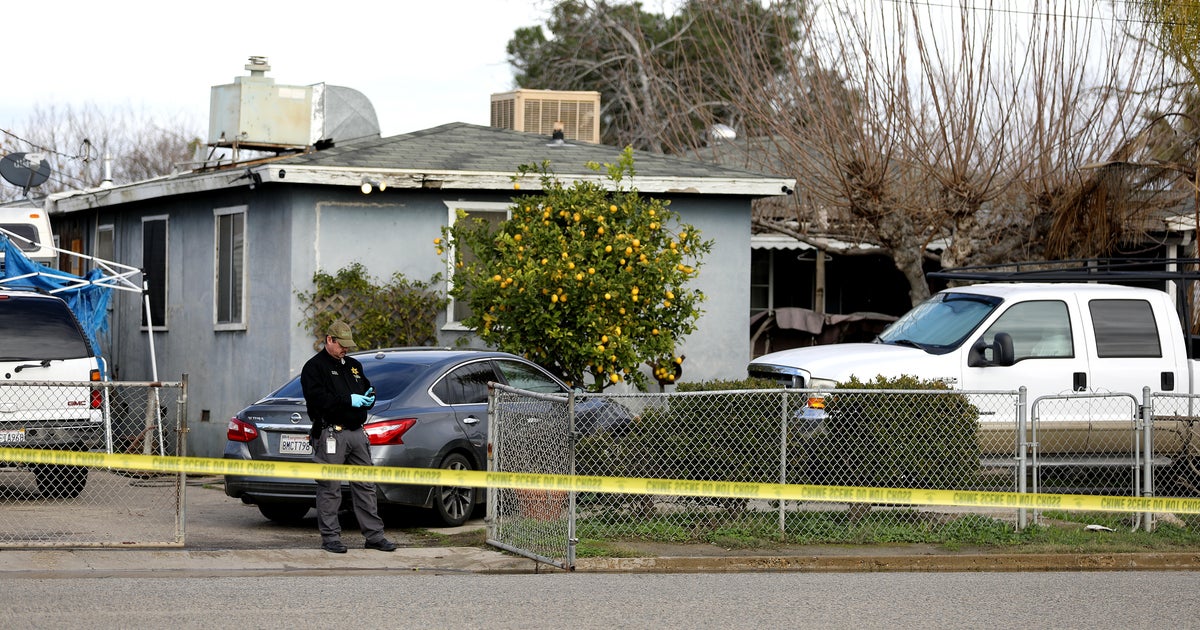 GOSHEN, Tulare County – Authorities are looking for at least two suspects wanted in connection with the murder of six people – including a 16-year-old mother and her 10-month-old baby – in a mass shooting early Monday at a home in Central California.
The Tulare County Sheriff's Office on Tuesday identified the victims as 72-year-old Rosa Parraz, 52-year-old Eladio Parraz Jr., 50-year-old Jennifer Analla, 19-year-old Marcos Parraz, 16-year-old Elyssa Parraz and her 10 months old son Nycholas Parraz.
The shooting took place at a residence in unincorporated Goshen, just east of Visalia.
At a news conference on Tuesday, Tulare County Sheriff Mike Boudreaux identified the victims as relatives and said it was "very clear" that the family knew of gang affiliations — and had been involved in previous drug investigations — had been targeted.
At around 3:30 a.m. Monday, deputies responded to reports of gunfire from Goshen's home. The 911 call came from a surviving victim of the shooting, who hid in the house and suffered no injuries, Boudreaux said.
When deputies arrived, they found two victims dead in the street and a third fatally shot in the doorway of the residence, Boudreaux said. Three more victims were found in the house, including a man who was alive and received CPR, but later died in a hospital.
Boudreaux said 16-year-old Elyssa Parraz was found dead in the street next to her deceased 10-month-old son. According to Boudreaux, forensic teams determined that the gunmen stood over Parraz's peak and fired multiple bullets into her head, and that her son was shot in the same manner.
"None of this was accidental. It was intentional, deliberate and heinous," Boudreaux said.
Investigators know of three surviving victims of the "massacre" and are interviewing them, Boudreaux revealed.
Detectives currently have no one in custody. They are looking for two unknown suspects. There may also have been a breakaway driver, Boudreaux said, but that has not been confirmed. No suspicious descriptions were immediately provided. The sheriff's office of the Bureau of Alcohol, Tobacco and Firearms is offering a reward of up to $10,000 for information leading to an arrest.
Although the shooting was gang-related, not everyone in the house was believed to be gang members or drug dealers, Boudreaux said, including Rosa Parraz, Elyssa Parraz and her infant son, whom he described as "innocent victims."
Boudreaux called the shooting "cartellike" on Monday. He defended the use of that phrase Tuesday, telling reporters that while investigators aren't sure if it was a gang, a cartel, or a combination, they think it may have been a cartel because of the manner of firing.
"These people were clearly shot in the head and they were also shot in places where the shooter would know a quick death would occur," Boudreaux said.
The sheriff said the house was known to the department because of gang activity. On January 3, patrol deputies conducted a parole compliance check at the home. And last week, authorities seized guns and drugs from the home, Boudreaux added.
Goshen, a semi-rural community of about 3,000 residents, is located 35 miles southeast of Fresno in the agricultural San Joaquin Valley.