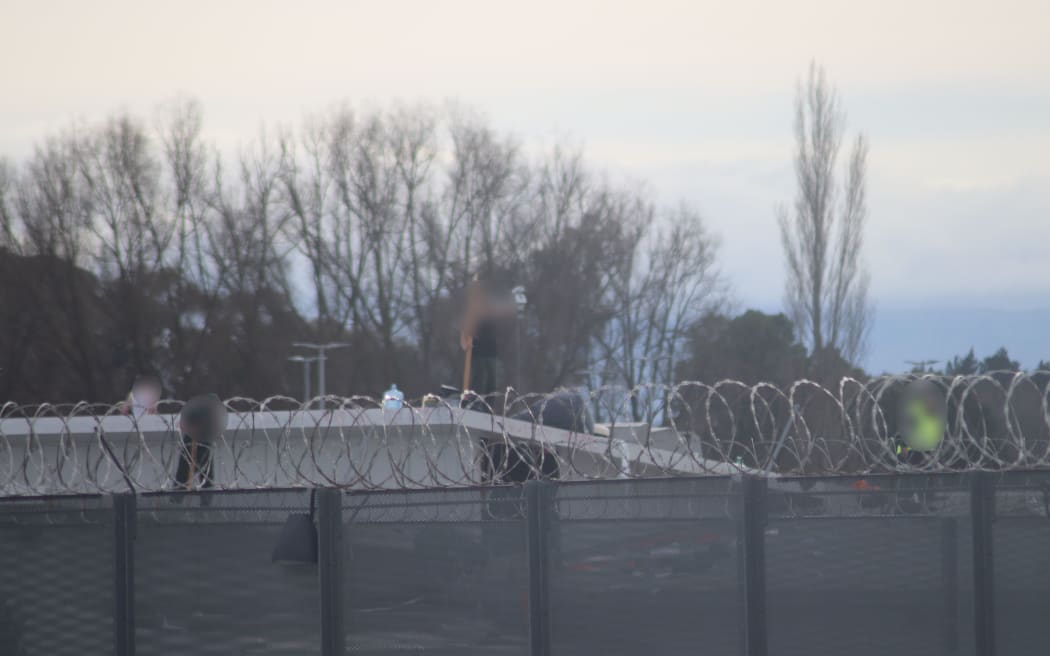 Climbing on the roof of a prison is no way to make a complaint, the Chief Prosecutor of Corrections says, promising a full investigation.
The last of the six young inmates left the roof of the Hawke's Bay Regional Prison at about 1.15pm this afternoon, having gone up almost 24 hours earlier.
They jumped off – a drop of about ten feet – were held to the ground and taken away in a van.
The Department of Corrections said it appeared that the 17- to 19-year-olds were unhappy because they couldn't use the youth section's gym.
Corrections Chief custodial officer Neil Beales told Checkpoint thanks went to the prison negotiators who worked all night to resolve the situation.
"They have done an exceptional job under the guidance of the Prison Warden and the Prison Warden and his team who have worked through the night. It is exceptional work and I am just happy that everyone can go home safe and sound at the end of the day."
Despite it being a frigid night and some wearing only shirts and other light clothing, the inmates could have turned each other on and some testosterone might have been involved, Beales said.
Whatever they were upset about, they should have chosen other ways of expressing their views rather than going to the roof, he said.
"That's no way to deal with a problem. We have a complaints procedure, we have a system for them to voice their concerns."
A full review would be conducted and all lessons would be applied across the prison system, he said.
The men had been told earlier in the day that they could use the sports field, but due to a situation that arose, possibly carelessness, the offer was withdrawn.
"Something had gone wrong that day … this will be part of the assessment."
The inmates were seen with blankets and food, so how those supplies were given to the inmates would also be part of the assessment process.
He said there was no suggestion that staff shortages led to the decision to cancel access to the sports ground.
Before calling off their protest, the prisoners had thrown objects from the roof, such as projectiles and pieces of wood.
They also started trying to get in touch with assembled media – listening to broadcasts and shouting about them as they aired.
They could hear things like "it's because they didn't let us out", "we're happy" and "play us on the radio".
'We have the result' – Minister of Corrections
Corrections Secretary Kelvin Davis said he "wants to make sure situations like this don't happen again".
"I just want to acknowledge the work of the prosecutors – they are very professional, well trained and have brought this to a close."
He was asked if it was good enough for the youths to climb onto the roof of a prison.
"These people are in jail for a reason – their behavior wasn't the best way to get them there and I think it's just an ongoing way they behave. It's a shame, but again, we got the result – they came down, no one got hurt."
JustSpeak is an advocacy group for youth law.
Executive Director Aphiphany Forward-Taua said their behavior was a reflection of the prison system.
"It's a cry for help from young people who are clearly feeling sad and unheard."
She was 'afraid' of the consequences the group would experience.
She had a message for Corrections: "Listen to what these young people have to say – how they feel, what their needs are and do their best to support them.
"These are young people – this is our future and we want them to feel that they can be a part of our society, so part of that means we have to provide them with rehabilitation and therapy and also full support where they feel that they are seen. , they are heard."