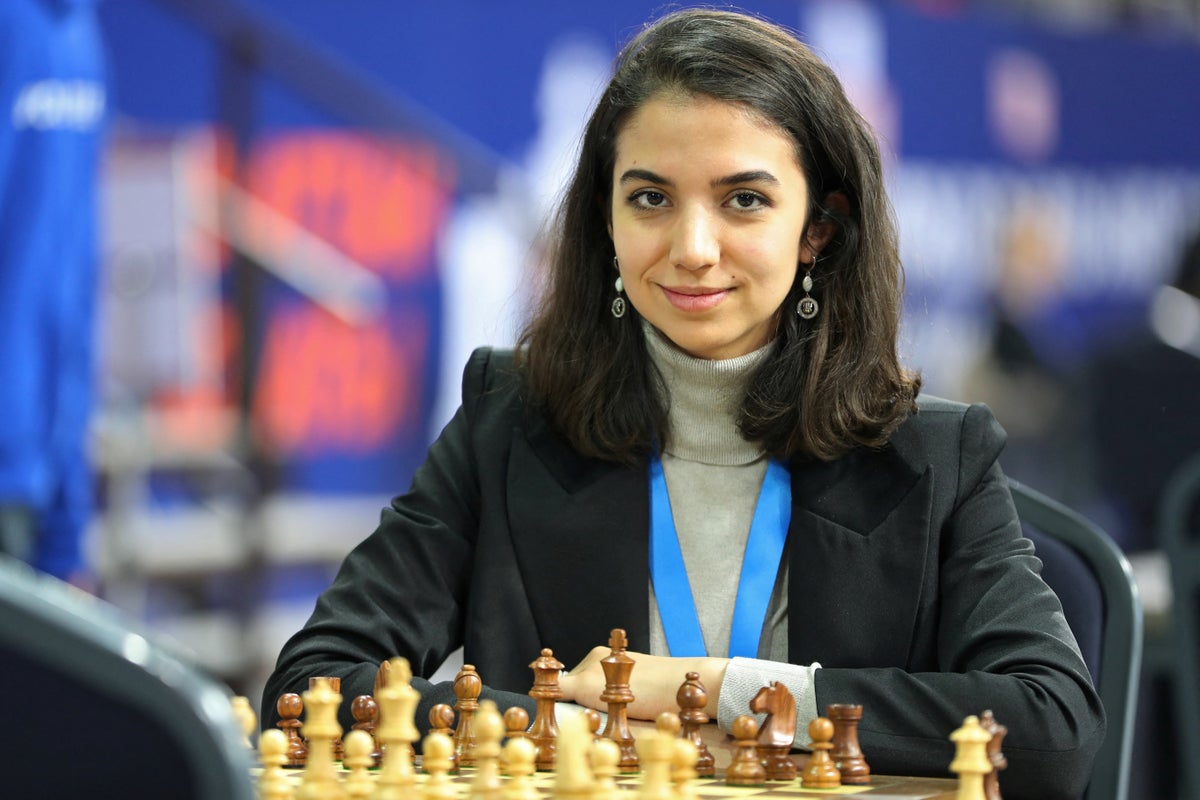 Sara Khadem, Iran's top female chess player, has explained her decision to controversially not wear a hijab at a recent major tournament after it caused a stir on the international scene.
During the Fide World Rapid and Blitz Championships in Almaty, Kazakhstan in December, photos began to circulate of Khadem – Iran's leading female chess player, ranked in the top 20 in the women's world – competing without a headscarf for the first time.
The hijab is compulsory for women under Iranian law, and Khadem explained this El País that decision was partly a sign of support for the protests that have gripped the country since the death of Mahsa Amini while she was in custody, and also a step to stay true to herself.
"To be honest, even before I played this tournament, I never wore a hijab," said Khadem. "I mean, I only did it for the cameras because I was representing Iran.
"Somehow it didn't feel right not to be myself, so I decided not to do that anymore."
And in an interview with The protectorshe added: "It felt, shall we say, disloyal to people if I had gone with the headscarf on. It just didn't feel right."
Amini was detained by the country's morality police after she was arrested for allegedly violating Iran's strict dress code for women when she died in custody, sparking widespread protests against the Iranian government.
Thousands of protesters have since been arrested — more than 18,000, according to Iranian non-governmental organizations (NGOs) working in exile — and at least 16 people have so far been sentenced to death and four executed.
By not wearing hijab on the international stage, Khadem has marked herself for the Iranian regime and has since moved to Spain with her husband, 32-year-old Ardeshir Ahmadi, the Iranian filmmaker, TV presenter and businessman, and their 11 – month old son Sam.
The 25-year-old, who was born Sarasadat Khademalsharieh but now prefers to be called Sara Khadem, had not competed in a major chess tournament in three years due to the pandemic and the birth of her son. event in Kazakhstan, it turned out to be the optimal time to make her statement.
Ahmadi explained, "She told me, 'I would like to go to the tournament, but I'm not going to wear the hijab.' I said, 'OK, if that's your decision, I support you and we can go to Spain.'"
Khadem is understandably concerned about possible reprisals, both against their families in Iran and against the Iranian community in Spain, but intends to continue representing Iran when it enters chess tournaments and is keen to return home when it is safe to do so .
"I think mixed is the best way to express my feelings at the moment," Khadem said. "But honestly, before our son was born, we never considered leaving Iran. Also, because of my chess career, I was traveling most of the year.
"You know, the situation in the Middle East is unstable and many people need a second option when things go bad. I never worried about that because I could easily get visas because of my chess career, but when Sam was born everything changed
"I started thinking about living in a place where Sam could go out and play without us having to worry about it, and a lot of other things like that. Spain seemed like the best choice, and seeing him happy here makes us happy. The Spaniards are in a way like Iranians – they are very warm and everyone is very nice to us.