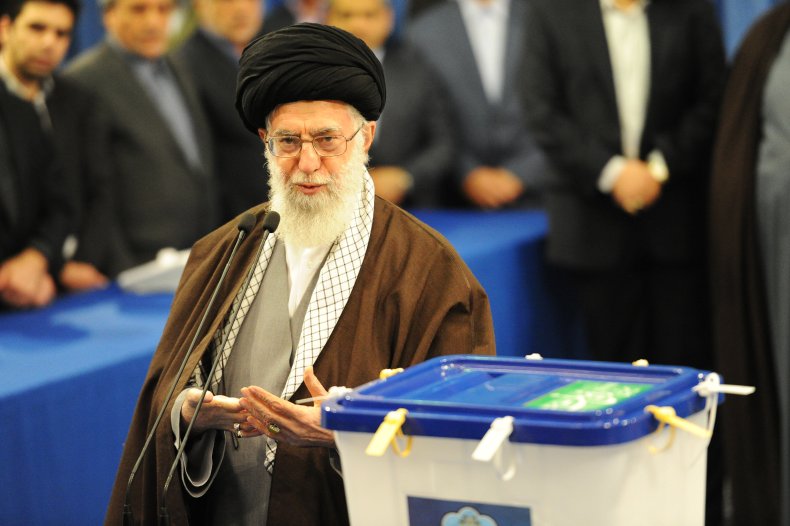 Iran's Supreme Leader Ayatollah Ali Khamenei targeted President Joe Biden on Sunday in a Twitter thread criticizing the United States' foreign policy toward Iran.
Some died, perished, disappeared, and others fell into the dustbin of history, even though they may still be alive – from Democrats Carter, Clinton & Obama to Republicans Reagan & Bush, from that former foolish president to today's scatterbrain who wants to save Iran!" Khamenei tweeted.
President Biden turns 80 on Sunday, becoming the first person to serve as US president at this age. His birthday comes amid questions about whether or not he will be able to re-run in 2024 and whether he will be able to serve another term given his age.
In May, former President Donald Trump mocked Biden's stuttering at one of his rallies and demanded that the president submit to a "cognitive test." Biden has long struggled with stuttering, a condition that has nothing to do with cognitive abilities. Last year, a report from the president's physician, Kevin O'Connor, ruled that Biden was healthy and fit for office.
Meanwhile, Khamenei on Sunday continued to criticize US policy towards his country, accusing the US of "doing everything it can to harm Iran".
"The US is doing what it can to harm Iran, but it can't do anything at all. Where are those US presidents who have been fighting the Islamic Republic for decades since the revolution?" he tweeted.
He continued: "When the US and world powers think of military options for Iran, they remember the 8-year Sacred Defense. They can take a step, but they will be trapped in Iran and suffer. are allies that they can start a war, but they will not be the ones to end it."
The Sacred Defense is an annual commemoration of the Iran-Iraq War that began in 1980 when Iraq invaded Iran. The war ended in 1988 after the adoption of United Nations Security Council Resolution 598 by both countries, resulting in a ceasefire.
Khamenei's comments come amid ongoing large-scale anti-government protests that first erupted in mid-September following the death of 22-year-old Mahsa Amini who was arrested by Iran's conservative moral police for showing too much of her hair. Iran requires women to wear headscarves in public under the country's ultra-conservative laws. Those who defy these rules and standards can be arrested and fined.
After Amini died following her arrest and alleged abuse by the morality police, demonstrations took place in Tehran, Iran and other major cities.
Iran's women have emerged as the dominant force in the protests that continue to denounce these laws across the country, with some even demanding regime change. Since then, many students, children and workers have joined the women-oriented protests.
In response, the Iranian government cracked down on demonstrators with violence, killing at least 362 demonstrators, including 56 children, according to the Iranian Press Agency for Human Rights Activists (HRANA). About 16,000 demonstrators have also been detained by security forces.
News week contacted the Iranian Foreign Ministry and the White House for comment.