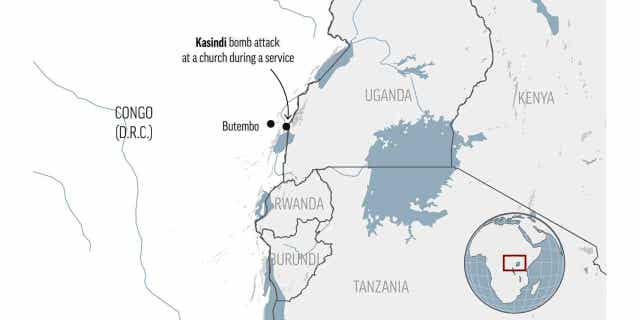 Islamic extremists have claimed responsibility for a bomb attack on a church in eastern Congo.
The Islamic State group and its news outlet Aamaq issued statements saying that its militants planted and detonated an explosive device in the Pentecostal church in Kasindi while people were praying.
"Let the Congolese forces know that their continued attacks on the mujahideen will only bring them more failures and losses," the group said in its statement.
3 HUNGARY POLICE OFFICER STABLED IN BUDAPEST, 1 KILLED
The extremists claimed the bomb killed 20 Christians. Congolese authorities estimated the death toll on Monday at 14 dead and at least 63 injured.
The injured were evacuated to Beni General Hospital by the UN peacekeeping mission known as MONUSCO, authorities said.
HUNGARY IS LAST FRONT AGAINST 'ISLAMIZATION' OF EUROPE, PRIME MINISTER SAYS
Eastern Congo has been ravaged by violence for decades, as more than 120 armed groups and self-defense militias fight for land and power. According to the UN, nearly 6 million people are internally displaced and hundreds of thousands face extreme food insecurity
Fighters from the Allied Democratic Forces, a rebel organization allegedly linked to the Islamic State terror group, have carried out several attacks in Kasindi, which is on the border with Uganda.
CLICK HERE TO GET THE TBEN NEWS APP
Uganda Army troops have been deployed to eastern Congo to stem the violence, but attacks are increasing and spreading. ADF attacks since April have killed at least 370 civilians and kidnapped hundreds more, a United Nations report said last month.