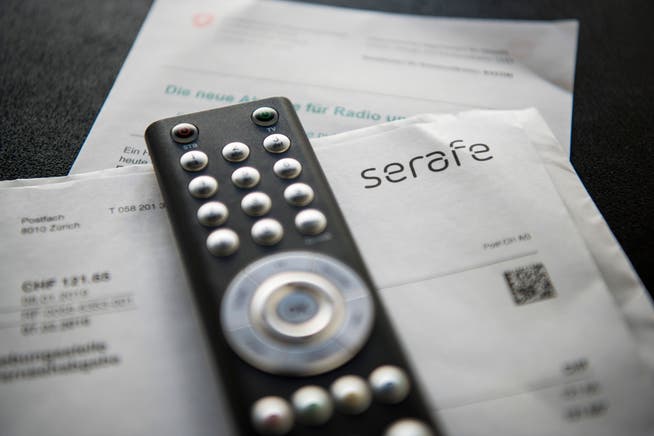 Public Broadcasting

It remains at 335 francs: the Federal Council does not want lower Serafe fees
The radio and television fee for households will not be cheaper from 2023. The Federal Council has decided to leave the fee at CHF 335 per year. Politically, this should cause explosives.
The radio and television fees are not going down. At its meeting on Wednesday, the Federal Council left the fee for 2023 and 2024 at CHF 335. In 2020 he had reduced the fee for the last two years from CHF 365 per household to CHF 335.
The Federal Council compared the tax revenue with the needs of the tax recipients. "He came to the conclusion that the amount of the fee for the period 2023/24 should be maintained for both private households and companies," says the statement from the Federal Office of Communications (Ofcom).
The Federal Council relies on forecasts by OFCOM. Accordingly, the demand for funds will increase somewhat faster than the income. This is mainly due to the cost-of-living adjustment. Because the difference is small, no adjustment of the fee is justified, argues the Federal Council.
The SRG receives 1.25 billion per year from the pot. The private radio and television stations get 81 million. Serafe has 20 million francs a year to process the fee.
New initiative pending
In the run-up to the eagerly awaited decision, it was expected that the Federal Council would lower the fee; also as a political signal, since the levy has faced opposition for years. Especially since the former Media Minister Doris Leuthard specified a target value of 300 francs when switching from the reception fee to the household fee.
The Federal Council wants to significantly restrict the SRG offer
The Federal Council has extended the SRG license. This applies to the next two years. But he has also set a few guidelines for the license from 2025 and these could have major consequences for the offers of the SRG stations. Specifically, the Federal Council wants the SRG to "focus more on information, education and culture", as the statement says. Conversely, this means: "In the areas of entertainment and sports, SRG should focus on those areas that are not covered by other providers." The Federal Council leaves open what this means for sports broadcasts, for example.
SRG's online service has long been the subject of criticism. Here, too, the Federal Council wants "the SRG to focus its online presence more on audio and audiovisual offers". In the case of text offers, "further restrictions would have to be checked". This would give private Swiss media more scope on the Internet – they had repeatedly criticized the publicly funded competition.
With the "No-Billag" initiative, right-wing circles wanted to completely abolish radio and television fees in 2018. But they failed at the ballot box with their radical proposal. A wide-ranging committee is currently collecting signatures for the popular initiative "200 francs are enough!". This is intended to limit the levy to CHF 200.
The initiators are mainly targeting the SRG broadcasters. In her eyes, these are too left-heavy and too bloated. In no other country is the "compulsory fee" so high. (mg/rwa)