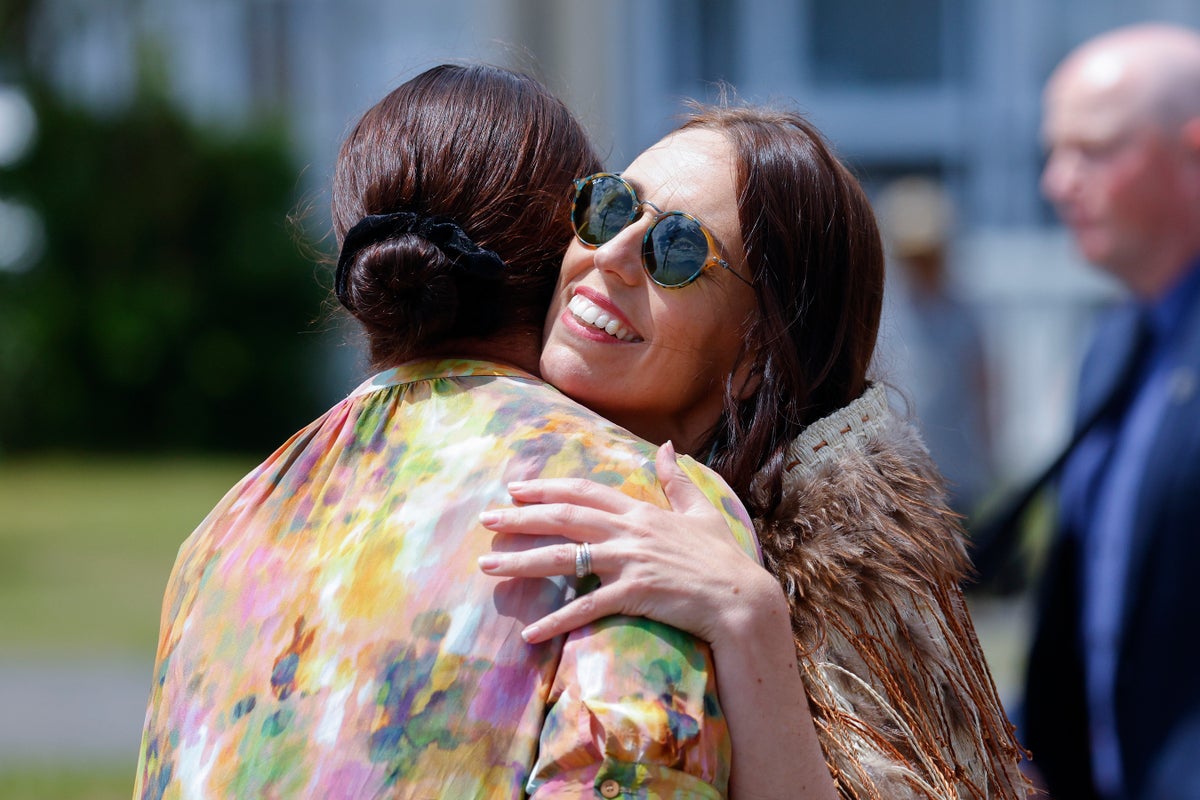 Jacinda Ardern made her last public appearance as New Zealand prime minister on Tuesday and gave her successor some good advice.
Ms Ardern arrived at the annual birthday celebration for Māori prophet Tahupōtiki Wiremu Rātana, held at the Ratana Meeting Ground, home to an indigenous Mori religious movement.
Dressed in traditional Korowai – a Māori feathered cloak – the outgoing prime minister was greeted with hugs and songs, marking her last appearance as New Zealand's prime minister before she steps down next month.
Ms Ardern was asked at the event what advice she would give to her successor, former Labor Party Covid minister Chris Hipkins, who was also attending the event.
She said the only real advice she could give was "You do it."
Ms. Ardern said she had been friends with him for 20 years and spent two hours with him on the drive to the meeting area.
This is for him now. It's up to him to create his own space to be his own kind of leader,' Ms Ardern said. 'Actually, I can't give any advice. I can share information, I can share experiences, but this is for him now."
After her resignation, less than three years after an emphatic election victory, the Labor Party elected Mr Chris Hipkins to take over as new Prime Minister last Sunday. Mr. Hipkins will be sworn in on Wednesday.
In a short speech, Ms Ardern said that what she would miss most after she stepped down is the people, because they were the "joy of the job".
Ms Ardern, who achieved celebrity status around the world for her calm and effective handling of Covid and the elimination of misogynistic attacks, shocked the world with the announcement of her resignation last week.
The 42-year-old said she no longer had "enough in the tank" after five turbulent years as she navigated the country through natural disasters, its worst-ever terror attack and the Covid-19 pandemic.
Ms Ardern also addressed the wide-ranging discussion that has been going on since her announcement about the vitriolic and misogynistic attacks against her on social media – something she says has not contributed to her decision to step down.
"Although there has been some commentary in the wake of my departure, I would hate for anyone to see my departure as a negative commentary on New Zealand," said Ms Ardern.
"I want you to know that my overwhelming experience in this job, from New Zealand and New Zealanders, is one of love, empathy and kindness," she said. "That's what the majority of New Zealand has shown me."
Mr Hipkins told reporters that the transition to leadership was "bittersweet".
"Obviously I am very honored to take on the role, but as you know, Jacinda is a very good friend of mine," he said.
Ms Ardern told the audience she leaves the job with more love and affection for New Zealand and its people than when she started.
"I didn't think that was possible," she said.
She said her colleagues were exceptional people and she feels she is leaving the country in "best hands".