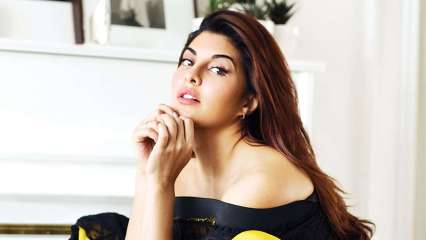 Actress Jacqueline Fernandez gave fans a glimpse of her glamorous look in the upcoming horror comedy, 'Bhoot Police' on Friday. She is currently shooting for the film in the picturesque town of Dharamshala.
After completing a program at Dalhousie, the actress is now at Dharamshala with the rest of the cast and crew.
In the new photos she shared, Jacqueline is dressed in a white shirt and black jacket with a black hat. We see her putting on makeup.
"Hello from Dharamshala! @Marcepedrozo I have no idea what you are doing! @Savleenmanchanda @shaanmu babies," she captioned the pictures.
Previously, she posted a Diwali video with her film co-stars, Yami Gautam, Saif Ali Khan and Arjun Kapoor.
Saif and Arjun are also in Dharamshala and were accompanied by their loves, Kareena Kapoor Khan and Malaika Arora respectively for the Diwali celebrations. While Malaika is back, Kareena and Taimur are still in Dharamshala where Saif is filming with the cast of "Bhoot Police".
Meanwhile, on Diwali, Yami and Jacqueline visited Kunal Pathri Devi temple in Dharamshala.
Yami took to Instagram and shared some photos. In one of the images, Yami and Jacqueline can be seen looking at the panoramic view from the temple.
"Good evening with one of the most beautiful actors I have ever worked," captioned Yami. The two were seen wearing thick jackets and coats.
The whole team is currently filming in Dharamshala.
Jacqueline also lined up "Kick 2" with Salman Khan and the role of Ranveer Singh "Cirkus".
(With contributions from IANS)
.