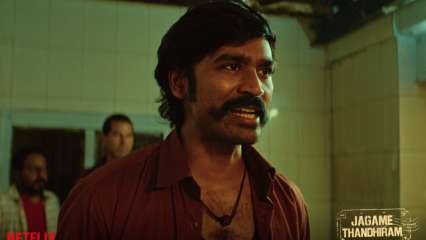 Director Karthik Subbaraj Jagame Thandiram with Dhanush for being a Netflix original film. The film has the actor playing the role of a gangster named Suruli and the directors have released the teaser. In Jagame Thandiram, the actor plays a nomadic gangster who must choose between good and evil in a war for what can truly be called home. The film also stars James Cosmo, Aishwarya, Lekshmi, Kalaiyarasan, Joju George, and others in key roles.
Talk about Jagame ThandiramKarthik said in a statement, "Jagame Thandhiram is my dream movie. A scenario that is close to my heart. A story that must be told and heard by audiences all over the world. This film has found a new way to speak to its audience. Jagame Thandhiram will be created by Netflix worldwide in over 190 countries and in multiple languages ​​simultaneously. Can't wait to share this movie on a 'Tricky World' (Jagame Thandiram). "
Check out the teaser below:
Meanwhile, producer S. Sashikanth of YNOT Studios said, "YNOT Studios as a brand has always been identified with the support of bold and innovative ideas without fear, and this decision further underscores that ideology does not stand out. not limited to content, but extends to all of our strategies and initiatives as well. We are very happy to partner with the streaming service, Netflix, which will champion the film and bring global reach to this Tamil story. Our film is going to be an exciting adventure to watch and we are confident the film will reflect the hard work of the cast and crew, resonate with audiences and be highly appreciated for its efforts. YNOT Studios is proud to deliver Tamil content unique to global audiences through direct digital output. "
The broadcast date of Jagame Thandiram has not yet been announced.
.