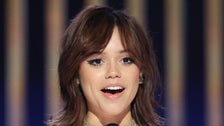 Jenna Ortega has stopped herself from possibly letting an interview go down the toilet.
The "Wednesday" star was speaking to Entertainment Tonight on the red carpet of the 2023 Golden Globes last week when she accidentally uttered a word that completely changed the context of what she was talking about.
Ortega – who was part of the new cast of "Scream" and will reprise her role as Tara Carpenter in the upcoming "Scream VI" – was asked how it felt to be part of the new generation of the iconic horror franchise.
"There was a lot of pressure on that," Ortega said. "Especially because initially my part was a bit of a twist on the role of Drew Barrymore, which is obviously legendary."
As Ortega continued, she experienced a bit of a hitch.
"I think because I shit…" Ortega said, laughing as she realized what had just come out of her mouth.
"Sat!" she said then, without missing a word. 'I have Sat involved in the project long enough, I was able to accept it."
Earlier in the interview, Ortega also spoke about her beloved viral dance she performs in an episode of Netflix's 'Wednesday'. The wacky dance, which became a hit on TikTok and featured members doing their own renditions of the choreography, received a bit of backlash after Ortega admitted she had COVID-19 while it was being filmed.
During her interview with ET, Ortega doesn't mention the backlash, but maybe it wasn't the right opportunity to talk about shit, er, it.