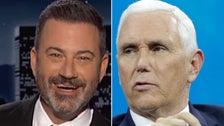 Jimmy Kimmel saw a few words from Mike Pence that already haunt the former vice president.
Pence was questioned in November over the classified documents scandal in which sensitive materials were found both at former President Donald Trump's Mar-a-Lago Florida home and at private locations used by President Joe Biden.
"Did you take classified White House documents?" asked TBEN's David Muir.
"I don't," Pence replied at the time.
Kimmel had even guessed where they had been found.
Watch it in his Tuesday night monologue: