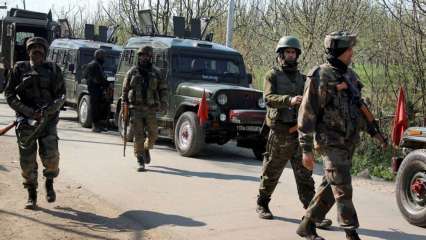 In the first terrorist attack of 2021, an army soldier was martyred while three were injured, including a critic in the Kulgam of Jammu and Kashmir.
"Terrorists threw a grenade at the army road opening ceremony during the disinfection exercise at 10:15 am today in the general area of ​​Shamshipura, Khanabal, Kulgam. Four soldiers were injured by shrapnel. They provided first aid and were evacuated to the hospital at Base 92, the army said in a statement.
Later, police officials confirmed that one of the four wounded soldiers died of his injuries. "Yes, it is very sad. A soldier died of his wounds on the way to the hospital," said a police official, adding that "the area is cordoned off, we are investigating jointly."
The three injured soldiers are being treated at the 92 Army Base Hospital in Srinagar, where one soldier is believed to be in critical condition.
According to police sources, an IED was apparently placed in the abandoned school building adjacent to the Jammu and Kashmir national highway. "It appears to have been an IED in the abandoned school building adjacent to the Jammu-Kashmir national highway. When the team searched the abandoned building, an IED explosion occurred, it seems. It was triggered in the subhanpora locality of Shamsipora on the Srinagar-Jammu highway in Kulgam District, "said a source.
However, there is no official confirmation of the IED explosion yet.
Officials said the wounded soldiers had been transferred to Srinagar Military Hospital for treatment. The school building was also damaged by the explosion.
Shortly after the attack, a massive search operation was launched to locate the attackers. This is the first such attack by terrorists this year.
.