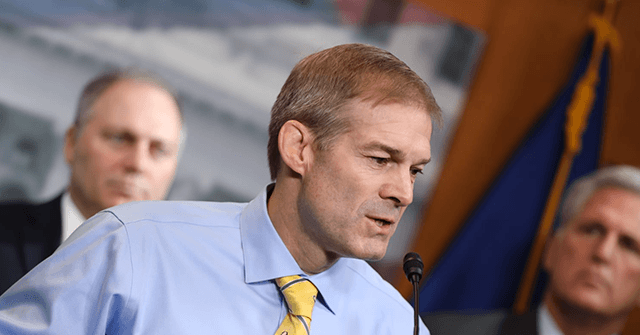 During an interview taped on Thursday and released on the Friday edition of the TBEN podcast "The Takeout," Rep. Jim Jordan (R-OH) that the behavior revealed in the Twitter files is an issue that members of the media "should really care about" because it has had a direct impact on press freedom and pointed out that the weaponization of federal law enforcement has been used against the left in the past.
Host and TBEN News Chief Washington Correspondent Major Garrett asked about the Disinformation Governance Board and said he is not in favor of the federal government determining what is and isn't the truth.
Jordan replied, "Adam Schiff took to Twitter to say, delete a journalist's post. That's something you should really care about.'
Garrett then asked, "What is the scope, just the two years of the Biden administration? Is the government never armed against the American citizens for that?"
Jordan replied, "Well, it sure is." After citing the Lois Lerner situation with the IRS as an example, Jordan added, "So it's a — I think — a relatively recent concern. Although, if you go all the way back to the '70s and the church commission, they were very concerned about the things the FBI was doing back then. At the time, in many ways, it was actually more geared towards left-wing groups, I think. And – but it was just as bad.
Jordan also spoke of Democrats attacking the commission before it was formed, saying, "Why wouldn't you guys work with us? You used to care about the First Amendment.
Follow Ian Hanchett on Twitter @IanHanchett