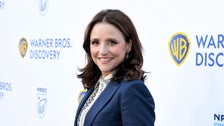 The 25-year-old son of the "Veep" star, Charlie Hall, has recently landed three TV and film projects as he expands his acting career. He has been booked for a role in HBO Max's "Sweethearts" and "The Sex Lives Of College Girls", and will also have a recurring role on the Disney+ series "Big Shot".
When asked if her son comes to her for advice, the Emmy winner answered yes.
"What are you telling him?" the interviewer asked.
"Get out of business," she joked.
Louis-Dreyfus is married to "SNL" alum Brad Hall. They have two sons, Charlie and Henry Hall, who is a musician.
Charlie Hall was previously seen in the series "Bel-Air" and "Single Drunk Female", as well as in the Netflix feature film "Moxie".