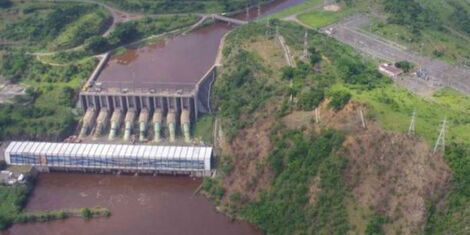 Wiper Party leader Kalonzo Musyoka has opposed the construction of a Ksh 425 billion dam in Tharaka Nithi district.
Speaking in Itunguni, Tseikuru sub-county on Nov. 13, Musyoka gave conditions that must be met for construction of the High Grand Falls Dam to go ahead.
He expressed his dissatisfaction with the lack of proper communication on how to compensate residents who will be evicted during construction.
An aerial view of the Inga II Dam.
Inga Dam
"People should receive adequate financial compensation so that they can choose where to settle and not be forced into a settlement," Kalonzo demands.
The dam will be the largest infrastructure project in Kenya since the construction of the Standard Gauge Railway and will displace residents from Kitui and Tharaka provinces.
The former vice president noted that there are plans to relocate residents to Meru National Park, something he promised to resist.
"People should be compensated and decide where to go instead of being forced to become squatters in game reserves," Kalonzo added.
Taking people to game reserves deprives them of their dignity and even if the dam is important it is unacceptable, Wiper's party leader said.
The megadam is part of six projects worth Ksh 500 billion that the Kenyan government and the UK have signed a pact to accelerate them on the sidelines of Egypt's COP27 climate conference.
Other mega projects to be funded by the UK include a new central station in Nairobi, geothermal and solar power plants in Malindi and Menengai and an agricultural hub in Kisumu.
When completed, the dam will generate 1,000 MW of hydroelectric power capacity and irrigation for 400,000 hectares of farmland.
"The UK and Kenya will come a long way if we go together. By accelerating the financing of these clean, green projects with fair, reliable investments, the UK is supporting Kenya to advance and maintain its leading climate credentials on the continent – ​​with mutual benefits for both our countries." Britain's High Commissioner for Kenya, Jane Marriott, wrote after signing the pact.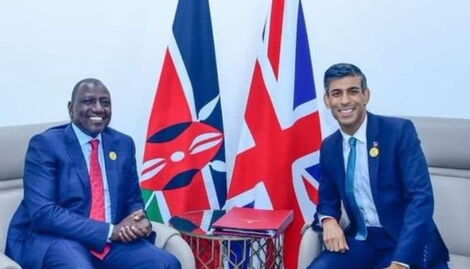 President William Ruto (left) meets British Prime Minister Rishi Sunak at the COP27 conference on Monday, November 7, 2022.
File