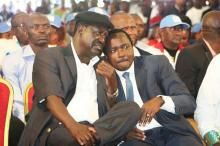 On Sunday February 21, Democratic Wiper Movement leader Kalonzo Musyoka hit back at ODM leader Raila Odinga for his remarks on the presidency.
Kalonzo, who was speaking at AIC Kyamutheke in Machakos, said he did not need Raila's approval for the big seat.
"Wacha nimjibu Raila Odinga nikiwa hapa kanisani. Stephen Kalonzo Musyoka anatafuta endorsement ya Mwenyezi Mungu (Let me respond to Raila Odinga here at church. Stephen Kalonzo seeks God's approval)," Kalonzo said.
The former vice president said he did not believe in political debts and that no one owed him.
ODM chief Raila Odinga and windshield wiper chief Kalonzo Musyoka at a meeting in April 2018
Deposit
"I did what I did to improve this country," Kalonzo said.
He pointed out that although he did not attend Raila's mock swearing-in, he advised him to arrange a meeting with Uhuru and discuss issues affecting the TBEN.
He said that attending such an event would disqualify him as a leader.
"I am a senior lawyer and this is the highest rank a lawyer aspires to. How would I have participated in an unconstitutional illegal false oath," Kalonzo said.
Kalonzo was reacting to Raila's comments on Saturday, February 20, where he told former leaders of the National Super Alliance (NASA) that he would not support them for the presidency. He attributed this to their inability to attend his swearing-in ceremony in 2017.
"When we went to the swearing-in ceremony in Nairobi they refused. They turned off their phones and they were shaking with fear. They now want me to give them the mantle by supporting them, "Raila said.
Raila called them cowards. "I will not give it to them because they have shown their cowardice," he added.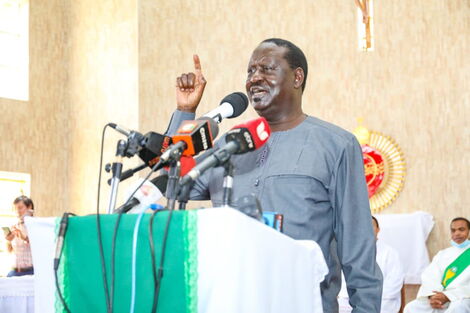 Former Prime Minister Raila Odinga speaking during a service at St. Joachim and Anne Catholic Church, Kayole, Sunday January 17, 2021.
Twitter