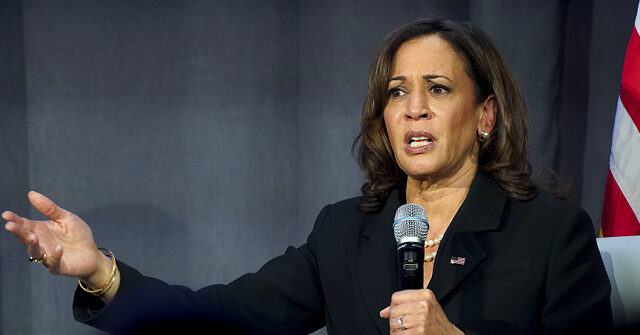 Vice President Kamala Harris travels to California on Wednesday in the wake of several mass shootings that have shaken the state and the nation but defy the talking points of gun control or extremism.
The Los Angeles Times reports:
Vice President Kamala Harris will travel to Monterey Park on Wednesday to honor the victims of one of three mass shootings that have rocked her home state this week.

Harris will lay a wreath Saturday night at a memorial honoring the 11 people killed by a gunman at a dance studio. She will meet the victims' families and Brandon Tsay, the 26-year-old worker who disarmed the gunman at a second dance club.

…

Less than two days later, as the community mourned in a candlelight vigil, seven more people were killed in a pair of shootings in San Mateo County's Half Moon Bay. A 67-year-old man is suspected of opening fire on Monday at two farms in the countryside about a mile apart, shooting some victims in front of children who lived nearby and had recently been released from school. The suspect in the shooting, identified as Chunli Zhao, is said to work on one of the farms. Police have not disclosed a motive for the shootings.
The Biden administration and Gov. Gavin Newsom (D) have both again called for more gun laws in the wake of the shooting, though it's unclear how any new laws would have prevented the attacks. A gun allegedly used in the Monterey Park shooting was already illegal in California.
In addition, President Biden recently signed into law a bipartisan gun control bill that represented the pinnacle of Republican willingness to accede to new provisions such as background checks for those under 21, but without an age limit on guns or a ban on "assault weapons."
Newsom's own ambitious gun control legislation has recently run into trouble in court as the Second Amendment limits the extent to which governments at any level can encroach on gun control.
Still, White House press secretary Karine Jean-Pierre stressed on Tuesday that the administration would use the mass shootings to push again for more ambitious gun control laws that have little hope of passing Congress.
Joel B. Pollak is Senior Editor-at-Large at Breitbart News and the host of Breitbart News Sunday on Sirius XM Patriot on Sunday nights from 7pm to 10pm ET (4pm to 7pm PT). He is the author of the new biography, Rhoda: 'Comrade Kadalie, You Are Out of Order'. He is also the author of the recent e-book, Neither Free Nor Fair: The 2020 US Presidential Election. He is a winner of the 2018 Robert Novak Journalism Alumni Fellowship. Follow him on Twitter at @joelpollak.