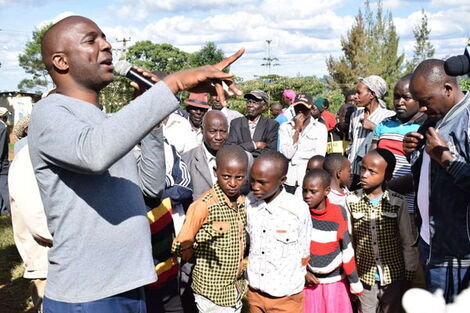 Senator Murang'a, Irungu Kang'ata, has held firm on the controversial letter he wrote to President Uhuru Kenyatta on BBI's grim future in Mt. Kenya region.
According to Jubilee Party insiders, Kang'ata refused to apologize to President Kenyatta for the storm created by the letter.
The head of state is said to have instructed the Interior PS Karanja Kibicho to call a meeting with party officials to iron out the problems raised on Tuesday January 12.
Senate Majority Chief Whip Irungu Kang'ata addresses reporter in 2019
File
The four-hour meeting was held at an unknown hotel in Westlands, Nairobi, and brought together senior party officials, including those from the Senate and the National Assembly.
Despite the pressure to either step down as Senate Majority Whip or publicly apologize to the President, Kang'ata insisted he had committed no crime.
The apology was to be communicated at a press conference organized by the party on Wednesday, January 13, but the senator was a no-show.
When contacted about the intrigues, Kang'ata said he was shocked that his colleagues leaked the discussions of the secret meeting to the media.
"I'm surprised my colleagues shared the details of the meeting with you. My letter did not insult anyone, nor did it contain lies ", he declared before adding" I have just reported the truth. What wrong have I done? "
Another source at the meeting hinted that Kang'ata did not regret writing the letter and seemed emboldened by what he believes to be the situation in the region.
"Despite the president's hard position on the issue and the presence of the PS from the inside, he appeared impassive, even saying at one point that he had not insulted the head of state to justify the return of party stick, "the source said.
At the funeral of the mother of ANC leader Musalia Mudavadi, Hannah Atsianzale, in Mululu, Vihiga county, on January 9, Uhuru said he did not need anyone to tell him what to do and what to do. 'he was in charge of the government.
"I am in charge of this government and I control what we do. Don't assume that a rained lion is a cat. Some people have written letters to me thinking I don't know what I'm doing. I don't want to be lectured. I am the president and I am in charge of this government. I know where I am and I know where I am going, "he says.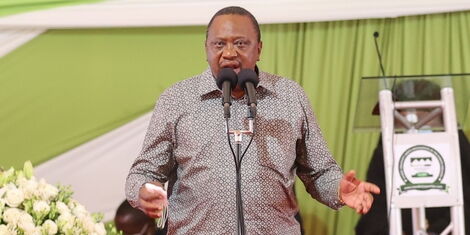 President Uhuru Kenyatta speaks at the funeral service for Mama Hannah Mudavadi at the village of Mululu in Vihiga County
PSCU