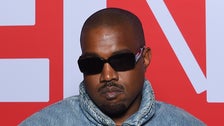 Ye, the artist formerly known as Kanye West, has seemingly married Yeezy collaborator Bianca Censori in a small ceremony in Los Angeles' Beverly Hills Thursday, TMZ reported. Although the couple has not yet filed a marriage certificate, they were seen wearing wedding rings on their ring fingers.
Censori appears to have worked as an architectural designer for Yeezy since November 2020, as suggested by her LinkedIn profile. The natural brunette, who dyed her hair blonde, previously worked at jewelry and architectural firms in Australia, according to the New York Post.
The newfound couple was spotted arriving at the Waldorf Astoria in Beverly Hills on Thursday, but their relationship was already plagued by Ye's "Censori Overload" release in December. In the song, Ye rapped, "The Bible said I can't have sex anymore until marriage."
The first tweet in October caused a momentous fall from grace for Ye, who intensified his anti-Semitic claims in subsequent interviews with Chris Cuomo and Piers Morgan. Ye and his ex-wife, Kim Kardashian, finalized their divorce at the end of November.
Kardashian shares four children aged 3 to 9 respectively with Ye – Psalm, Chicago, Saint and North. The reality TV star told Power 105.1 radio host Angie Martinez in December that she has been trying to protect her children from their father's troubling controversies.
"If they don't know what's being said or what's going on in the world, why would I ever give them that energy?" said Kardashian. "That's some really grown-up shit that they're not ready to deal with."
According to Page Six, you've apparently been spending a lot of nights at the Waldorf lately. Whether he will file an official marriage certificate or is currently living at the hotel – while noticeably staying out of the spotlight following his many disturbing interviews – remains to be seen.