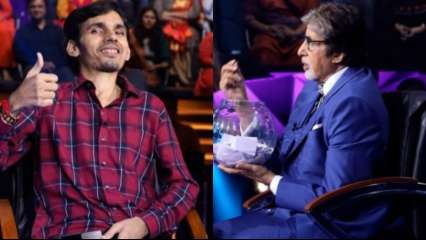 Amitabh Bachchan started today's edition of "Kaun Banega Crorepati 13" by informing the audience of the theme of the week. He explained that they will be carrying out their competitors' wishes for the whole week in order to cheer them up.
Competitor of the day Panjkaj Kumar suffers from juvenile spondylitis which has made his daily activities difficult. He has had it for 12 years and decided to come to 'KBC' to please his parents. He finally got the chance to participate this year after six years of testing.
He managed to earn Rs 12 40,000 by answering a very difficult question, but he got stuck on one.
The question was:
In which current district didi Shuja-Ud-Daula built the fort of Chotta Calcutta in 18e century?
The answer to this question was Ayodhya.
Some other questions were-
Q. Which of these side dishes is usually made with curd and vegetables?
A. Kheer
B. Basundi
C. Raita
D. Rabdi
Answer: C. Raita
Q. In December 2020, which cricketer won the Sir Garfield Sobers Award for Male Cricketer of the Decade?
A. Virat Kholi
B. Steve Smith
C. MS Dhoni
D. Kumar Sangakkara
Answer: A. Virat Kholi
Q. What traditional Char Dham site is located in the westernmost part of our country?
A. Badrinath
B. Puri
C. Rameshwaram
D. Dwarka
Answer: D. Dwarka
Q. Who was the only prime minister who never won the Lok Sabha elections?
A. HD Devegowda
B. Manmohan Singh
C. Inder Kumar Gujral
D. VP Singh
Answer: B. Manmohan Singh
After Pankaj Kumar, Oshin Patwa took the stage after passing the qualifying round. The siren sounded and Big B said goodbye to the audience before she could start playing. She will start playing the game from the first question of the next episode.
.