The Kenya National Highway Authority is planning to construct an elevated road in Karatina town as part of the Kenol – Sagana – Karatina – Marua road project.
At a public participation forum on Tuesday, February 23, the roads agency said the new road, if implemented, would involve the construction of a viaduct over the existing road.
This in turn would facilitate traffic as the road is enlarged as part of the project.
A 7 km bypass is also expected to be built in the town of Karatina.
Contractors working on a road in Kenya.
Deposit
The route crosses Murang'a, Kirinyaga and Nyeri counties from Kenol, Maragua, through the towns of Sagana in Kirinyaga County and Karatina in Nyeri County before finally ending in Marua town.
The entire road project is expected to cost Ksh 16 billion with an expected completion date of June 2023.
The project is being carried out in two phases with the first phase involving the doubling of the section from Kenol to Makutano to Sagana. There will be the construction of an interchange in Makutano.
Section 2 of the road project is the 36 km stretch from Sagana to Nyeri, which will have three interchanges at Mathaithi, Tumutumu and Marua.
The road is a key flagship project that connects the central part of Kenya with the Isiolo-Marsabit-Moyale road.
According to a project report, around 1.15 million people will benefit from the upgraded highway, with beneficiaries identified as farmers, manufacturers and traders.
When completed, commuters heading north to Ethiopia as well as other serving towns will have a continuous 120 km route, a first in Kenya.
According to the project report, the road will become part of the 800 km stretch from Nairobi to Moyale.
"Looking at the project, it will cross at least six or seven counties and that will be a major boost for the region. This is a priority project for the government, "Cabinet Secretary for Transport and Infrastructure James Macharia said at a press conference on June 2, 2019.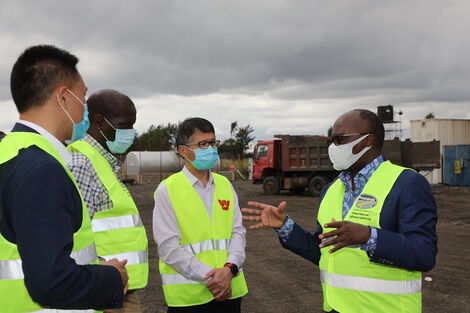 Transport Cabinet Secretary James Macharia with Kenol-Marua dual carriageway contractors, July 2020.
Deposit