Kenya has made history in the global airport rankings after scoring 91 percent in an audit conducted by the United Nations' International Civil Aviation Organization (ICAO).
In a statement dated Saturday, July 30, the Kenya Civil Aviation Authority (KCAA) said the score of 91.77 was the highest figure ever recorded in East and Central Africa.
The historic results were attributed to security measures taken at Jomo Kenyatta International University (JKIA) and Moi International Airport in Mombasa.
Security research machines at JKIA.
Twitter
KAA
The two airports were monitored on the basis of the Global Aviation Security Plan (GASeP) developed by the UN agency.
For his part, James Macharia, secretary of the Transport Cabinet, said the historical ranking was a testament to the security measures taken by the government and KCAA.
Furthermore, Macharia indicated that the ranking places Kenya second in Africa in terms of airport security.
"In 2015, there were 32 findings from 300 protocol questions, with observations at JKIA only. In comparison, in the May 2022 audit, the scope increased to 493 protocol questions and included visits to both JKIA and Moi International Airport, Mombasa. findings has dropped to just 15 findings in 2022.
"With the current audit results released by ICAO, Kenya now ranks second in Africa and has already reached and surpassed ICAO's target of achieving a 90% sustainability indicator by 2030," he stated.
Developed by ICAO, the Global Aviation Security Plan (GASeP) aims to help provinces around the world improve the security of their airports through various guidelines.
Among the issues GASeP aims to address are airport cybersecurity and terrorism.
"GASeP's goals include improving technical assistance and enhanced regional coordination, and developing the Traveler Identification Program (TRIP) strategy," ICAO said.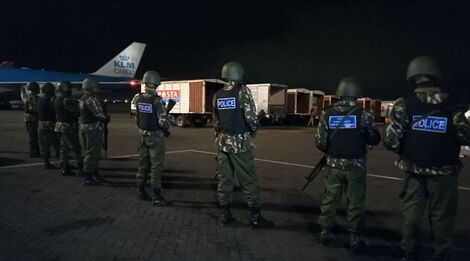 Police officers at JKIA, Nairobi
File
terrorism