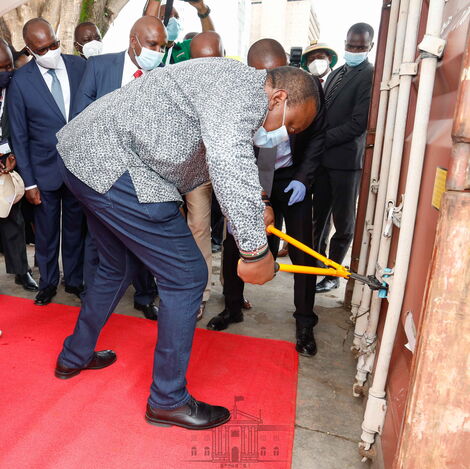 The Kenya Railways Corporation on Tuesday 23 February announced changes to standard gauge rail service in its attempt to ensure efficient freight evacuations.
The company has dedicated two freight trains per day from the port of Mombasa to Nairobi to deliver around 6,000 tonnes of freight for both local and transit customers.
According to KR, the move aims to increase daily delivery to Nairobi and the Naivasha Inland Container Depots (ICD).
"Kenya Railways continues to play a vital role in the evacuation and transportation of goods by reducing the dwell time at the port of Mombasa," said KR.
President Uhuru Kenyatta opens container at Kenya Railways transit hangar on November 10, 2020
PSCU
The service also recognized the recently launched double-decker train service via SGR, which carries approximately 154 twenty-foot equivalent units (TEUs). Rail service has improved daily freight evacuation and efficiency at the port of Mombasa.
"We are committed to upholding these goals to manage the delivery of freight to our valued customers," the company said.
In addition, KR recently opened a new warehouse to increase storage capacity at the Nairobi Transit hangar.
Dubbed the National Cargo Deconsolidation Center – Nairobi (NCDC-Nairobi), the warehouse would increase the number of cargoes cleared to around 300 containers per month.
In addition, the service would increase the decomposed cargo capacity from (5) initial 40ft containers to (15) 40ft containers.
This would also be achieved by the 24-hour transit shed, according to the company.
The news comes as the government took steps to ensure the rail system is overhauled to reduce over-reliance on road transport.
Some of these measures have seen the rehabilitation of Nairobi commuter trains and the introduction of 11 new multiple diesel units (DMUs) which were acquired at a cost of Ksh 1.5 billion.
When launching these services, President Uhuru Kenyatta noted that the government was keen to develop the transport sector in the country.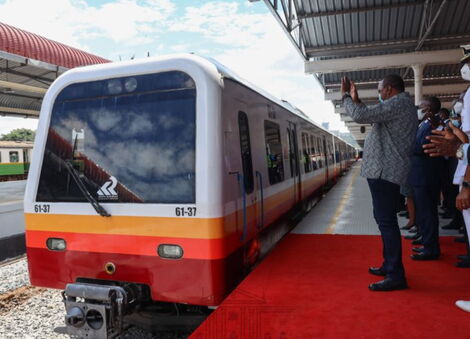 President Uhuru Kenyatta signaling the first train at Nairobi Central Station on November 10, 2020.
PSCU