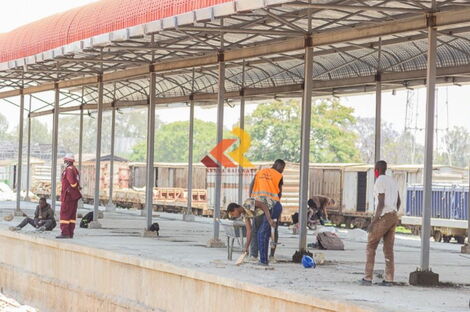 The Kenya Railways Corporation has taken steps to end the illegal occupation of its reserve lands, following increased activity which has been facilitated by the renovation of several railway lines.
The company announced that anyone who encroaches on its land would be criminally guilty and heavy fines would be imposed.
In a statement, the rail service provider reminded TBEN that occupying its land is a criminal offense.
"KR would like to inform the general public that, with or without prior knowledge, the occupation of the Company's reserve lands is criminal."
Nairobi Central Station workers in 2020
Kenya Railways
"Anyone who breaks the law is liable to imprisonment for up to 10 years under the KRC law. We therefore wish to remind the public that any unauthorized activity in this sense is strictly prohibited," it reads in the press release.
Kenya Railways is one of the largest landowners in Kenya, but most of them have been inactive for years after the service collapsed in the 1990s.
Land grabbers and the homeless have taken advantage of inactivity to create businesses and homes on rail reserves.
The government organization is covered by the roadmap law which prohibits any business from hampering its functioning.
Land encroachment compromises safety standards, leading to derailments as well as other challenges including delays and vandalism.
The warning came just days after Kenya Railways demolished structures meant for businesses in Kisumu County.
The demolition was supposed to pave the way for the construction of a passenger rail station in the area.
Traders watched bulldozers tear down their structures as they tried to salvage what they could.
Kisumu City Director Abala Wanga said the county was determined to reclaim the land seized for the city's development.
"This is part of a larger plan for the realization of the railway town of Kisumu. A development to which we all aspire, "he said.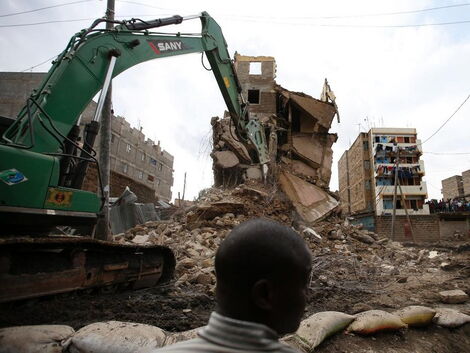 Bulldozer demolishes homes in Kisumu County
File