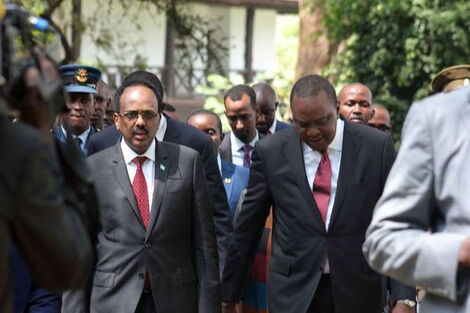 The Garissa County Council of Elders has expressed concern about the upcoming elections in Somalia following recent reports of political unrest in the Horn of Africa nation.
The country is expected to conduct general reviews on February 8, 2021, but Garissa elders fear that statements by a section of candidates in Somalia could cause unrest in the region.
The leaders appealed to President Kenyatta, the United Nations and other countries to engage Somalia to ensure it holds peaceful elections.
President Uhuru Kenyatta with his Somali counterpart Mohamed Abdullahi Farmajo after the national prayer breakfast at the Safari Park hotel in Nairobi on May 31, 2018.
Facebook
"We appeal to the United Nations, other countries and our government, we don't want more refugees here in Kenya.
"We are already tired of those who came before. They settled on our land. And now we see (Farmaajo) wanting to destabilize the peace in this country," said one of the elders.
"The refugee camp area is now short of resources. Water levels have fallen to their lowest. We can no longer accommodate refugees," added another.
They called on the government to find common ground with Somalia and help the country hold free and fair elections.
"We want to tell the government of Kenya and the government of Somalia to find a way to avoid chaos. We call on the President of Somalia to calm the nation down and organize safe and peaceful elections to prevent there being refugees from the country, "said another elder.
Talk to TBEN.co.keGovernment spokesman Colonel Cyrus Oguna assured residents of the northeastern region of Kenya that they did not have to worry.
"The government is in the driver's seat, and will always be in the driver's seat. The government is very viscous about what's going on. We always put the interests of TBEN first and they shouldn't worry about what's going on. We are aware of it. and in control of what is happening in the region, "Colonel Oguna said.
The leaders' statement comes at a time when Kenya and Somalia are embroiled in a diplomatic row, the latter accusing Kenya of interfering in its internal affairs.
This is after President Uhuru Kenyatta hosted Somaliland President Muse Bihi on December 13, 2020. Farmaajo accused Kenya of disrespecting Somalia's sovereignty in its relations with Somaliland, which is considered a state de facto.
The Somali president had accused Kenya of hosting Somali rebels and claimed that Nairobi was used by dissidents to plan and execute missions aimed at destabilizing the Somali government.
"We have a lot of respect for Kenya. We want to live for mutual benefit. However, Nairobi shows no respect for this," he said.
However, some have argued that Farmaajo's decision was a vote whip move in his favor in the next election.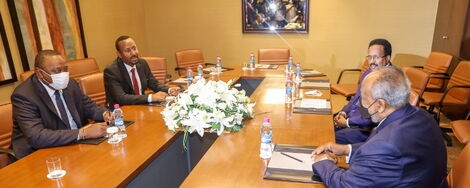 From left to right: President Uhuru Kenyatta (Kenya), Prime Minister Abiy Mohamed (Ethiopia), President Mohamed Farmaajo (Somalia) and President Omar Guelleh (Djibouti) at a meeting in Djibouti on Sunday, December 20
PSCU