Amid Russia's invasion of Ukraine, babies born prematurely in both countries rely on a Kenya-made respirator called Bubble Continuous Positive Airway Pressure (bCPAP).
The minors are among those who have access to medical services and facilities in the war had recorded 14,059 civilian casualties, with 5,767 people killed and 8,292 injured as of September 2022.
Aid workers indicated that the actual numbers are probably considerably higher. The majority of the injured also do not have access medical services and facilities such as hospitals and clinics have been bombed and several areas face constant failures affecting life-saving machines.
One of the key features of the device, manufactured by Revital Healthcare (EPZ) Ltd of Kilifi County and a US-based Vayu Global Health Foundation, is that it does not depend on electricity.
Revital Healthcare technical director Krupali Shah and Kisumu county First Lady Dorothy Nyong'o on the coast General Teaching and Referral Hospital neonatal ward
Twitter
It provides the baby with oxygen under pressure and respiratory distress to help it breathe. Water bubbles that form in a jar indicate that the baby is breathing well.
"You can adjust the oxygen concentration between 30-100 before delivery to the baby. The mixed air can be filtered, humidified, inhaled and exhaled by the patient.
"There is also a jar with a pressure generator that regulates the pressure and keeps the baby's lungs open," said Revital's technical director Krupali Shah.
According to the World Health Organization (WHO), at least 25 facilities in Ukraine used donated bCPAPs in August 2022.
The device has also been adopted by major hospitals in Kenya and at the Muhimbili National Hospital (MNH) in neighboring Tanzania.
Belgium, the United States of America and 20 other countries in Africa also use the device. The device is trading at Ksh48K.
According to the World Health Organization, infant mortality is primarily caused by respiratory distress.
"Globally, infectious diseases, including pneumonia, diarrhea and malaria, along with preterm birth complications, asphyxiation and trauma and birth defects, remain the leading causes of death for children under the age of five," the WHO said.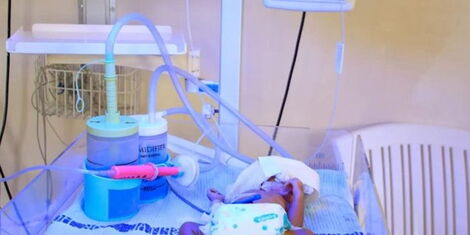 An example of the bubble-blowing CPAP device in use
facebook
dead murdered