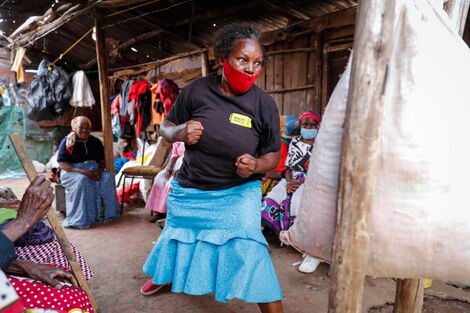 A group of elderly women from the slums of Korogocho, Nairobi County, drew international attention for their taekwondo prowess.
The group of fifteen, led by Jane Kimaru, has since been featured by international media such as the The world is one (WION) and the New York Post for their clever display.
During an interview on WION on Thursday, September 24, the 60-year-old team leader revealed that she launched the group with the aim of equipping her colleagues with self-defense skills.
Jane Kimaru hits a punching bag during her taekwondo class in Korogocho.
Twitter
NYP
The instructor added that she was motivated to start class after realizing that many elderly women in her neighborhood were being assaulted in their homes.
"Slum women should come together and join hands to learn self-defense. You don't need a lot of energy to protect yourself, "she said.
Kimaru's class attracted many elderly women from the Korogocho slum and surrounding areas, with the oldest student being 100 years old.
As part of their training, the instructor also revealed that she trains the grannies on how to sound the alarm when in distress.
In the video, the grannies can be seen hitting and kicking a punching bag while shouting no.
"The lessons helped me learn to defend myself and not to fear anyone. Now I have the skills to shout non-loudly, "said Ann Wathera, 76.
For her part, Esther Wambui added that the lessons have helped her protect herself and her family. However, she noted that most people still don't care about grannies' determination to learn martial arts.
"I have been properly trained and I think I am a fan of self defense. A lot of people can look at us and say we're stupid. We are neither intimidated nor afraid, "Wambui said.
Like any other martial arts class, grannies are guided by strict rules, with latecomers having to do fifteen sit-ups before joining the session.
Taekwondo is a martial art of Korean origin that involves kicking and punching.
Many TBEN have since praised the group for their courage, saying older women were models to girls all over the world.
"These women are celebrities in my homeland Kenya, I love them especially the way they tell their stories," Erick Njoka tweeted.
Former K24 TV presenter Eric Njoka in studio in 2019.