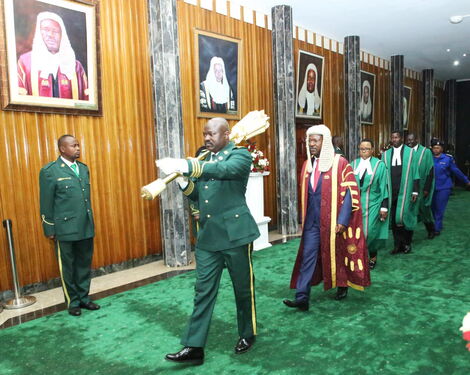 President William Ruto has unveiled plans to instill etiquette on newly elected Kenyan Kwanza MPs.
At the Kenya Kwanza parliamentary group meeting on Thursday, September 16 in Naivasha, Ruto indicated that the coalition will take steps to ensure that the first MPs are escorted ahead of the big task ahead in parliament.
"Tomorrow we have a session to show a little bit of etiquette, to show how to hold a fork. Sometimes we feel ashamed when we have great leaders who don't know how to hold a spoon," Ruto joked to the delight of his allies.
"We will take the time tomorrow so that we can guide everyone. We cannot take things for granted. To the seniors here, let's guide the newcomers. Don't bother the youngsters, show them how CDF works and show them how committees work," he added.
National Assembly speaker Moses Wetangula walks into the House after being sworn in on Thursday, September 8, 2022
parliament
Furthermore, Ruto challenged MPs affiliated with Kenya Kwanza to attend house meetings and take an active role in legislation and debates.
Referring to previous reports indicating that some members were inactive in the 12th Parliament, Ruto warned his allies against absconding from their legislative mandate.
"Parliament is not a place to sell potatoes. It is a place to talk about people's affairs to articulate issues that matter to your voters," Ruto pleaded with MPs.
In addition, he downplayed Azimio la Umoja chief Raila Odinga's claims that the opposition would control both Houses of Parliament with their majority members.
"I've heard our competitors try to say they have numbers, if they can't even muster a candidate for Senate President, what numbers do they have? There's no need to run a contest where there aren't any," trolled the president's opponents.
Ruto and his Kenya Kwanza brigade will be in Naivasha for two days to deliberate on a strategy prior to appointing members to key parliamentary committees.
The coalition that brings together the United Democratic Alliance (UDA), Amani National Congress, Ford Kenya and Pamoja African Alliance, among others, is eager to take the leadership of crucial House committees and the majority leader.
However, Kenya Kwanza faces formidable opposition from MPs who also claimed to be in control of the parliament. On Friday, Raila Odinga urged coalition members to actively assume the oversight role in parliament.
"As a majority coalition in the National Assembly, we will vigorously play our oversight role to ensure resources are used wisely by the executive branch," Raila noted at the Azimio parliamentary group meeting.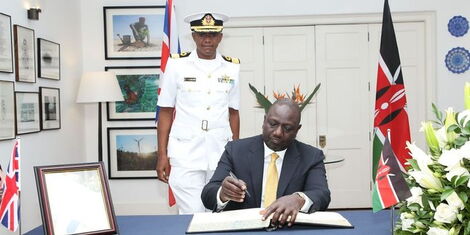 President William Ruto signing the book of condolence for Her Majesty Queen Elizabeth II at the residence of the United Kingdom High Commissioner, Muthaiga, Nairobi, on Wednesday, September 15, 2022.
William Ruto
torment