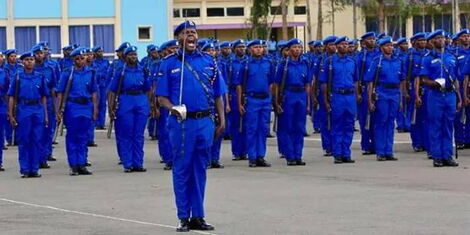 A male recruit died on Monday February 22 during the Kenyan police recruiting exercise in Webuye, Bungoma County.
26-year-old Dennis Wamukota is believed to have died shortly after completing a six-kilometer run that was a prerequisite for the exercise.
Wamukota was one of 300 candidates who presented for the exercise at Bokoli Primary School.
Kenyan police in a parade
Twitter
Parents told K24 that their son was taking an engineering course at the National Youth Service and had returned home to try his luck in recruiting. Engineering was one of the specialties sought by the national police.
Kenyan police medics took him to the Bokoli Sub-County Medical Center where he was pronounced dead on arrival.
"The medics did their best to help him, but unfortunately we lost him," said Dennis Ngetich, the deputy commander of the regional police who oversaw the exercise.
According to the national police, applicants had to be Kenyan citizens, with a Kenyan national identity card, between the ages of 18 and 28 for holders of a KCSE certificate, those aged 30 being required to have a diploma or diploma.
The applicants also had to meet the requirements of Chapter Six of the Constitution, be in good physical, mental and medical shape without a criminal record or charge. Candidates must not be pregnant during the exercise.
In another case, reports indicate that a recruit turned violent and began fighting officers in a similar recruiting in Mvita, Mombasa County on Monday February 22. A lady was seen praying for him after the incident.
On February 12, Maxwell Saro, who had come forward for KDF recruiting in the town of Malindi, County Kilifi, developed medical complications after completing the physical exercise which led to his death within hours. late. It was after he threatened to beat the officers leading the exercise.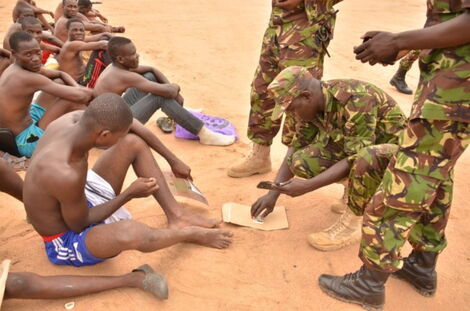 Kenya Defense Forces (KDF) during previous recruitment
Twitter