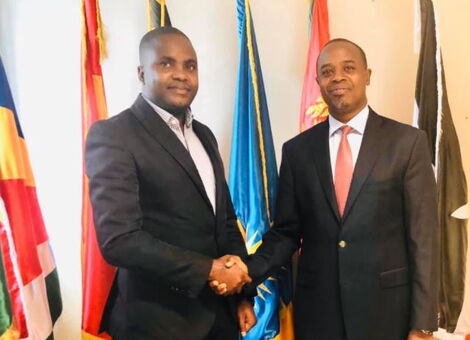 Professor Emmanuel Mutisya has been appointed Chairman of the Board of Directors of Global e-Schools and Communities Initiatives (GESCI), an international education organization.
In a statement seen by TBEN.co.ke, Professor Mutisya will spearhead the growth of the organization in the education and skills development sub-sector.
He will take over from Brendan Tuohy, an Irish national who ran the institution for over 10 years.
"I see growth opportunities moving forward if we continue to align GESCI's focus areas with the needs of young people today and tomorrow and the needs of the labor market of tomorrow. We have a responsibility to find local solutions to our problems through quality education and skills, "he noted as he took over.
Prof Emmanuel Mutisya (left) at AFDB headquarters in Côte d'Ivoire in February 2020.
Facebook
Prof. Mutisya is a long-term consultant and program coordinator in the education and skills development sector at the African Development Bank and visiting professor at the University of Nairobi.
His expertise covers international development policy, project management, design of skills development programs, strategic policy planning, youth entrepreneurship, financial inclusion, higher education and research and science. sustainability.
"Professor Mutisya offers experience in the design, formulation, implementation and monitoring of portfolios at national, regional and global levels," read a statement from GESCI.
GESCI is an international non-profit organization founded on the recommendation of the United Nations Information and Communication Technologies (ICT) Working Group.
It was established in 2003 during the first World Summit on the Information Society and manages programs on ICT and Stem education, digital skills and youth entrepreneurship, leadership for sustainable development and development. professional teachers, among others.
"We are working with governments and partners to provide strategic support to develop and implement ICT-based good practice models for high quality education and training and to build effective leadership capacities in the development of skills. ICT and the knowledge society among officials in the developing world, "the organization's website explains.
The institution is present in Bolivia, India and in many African countries including Morocco, Malawi, Mauritius, Mozambique, Côte d'Ivoire, Namibia, India, Rwanda, Kenya, Senegal, Tanzania, Uganda and South Africa.
In 2011, GESCI signed a Host Country Agreement with the Government of Kenya when it moved its headquarters from Ireland to Nairobi, Kenya, where it now resides as a fully-fledged international organization.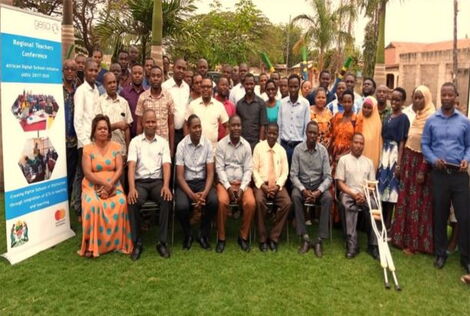 GESCI members at a previous event
Twitter