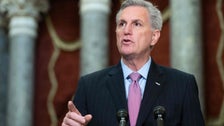 House Speaker Kevin McCarthy (R-Calif.) admitted Monday that he "always had a few questions" about the resume of Representative George Santos (RN.Y.), the newly elected congressman who was found to have lied extensively about his credentials.
"I never knew everything about his resume or not, but I always had a few questions about it," said McCarthy, a reporter asked whether he had any idea of ​​the allegations against Santos before they became public.
The reporter also asked how a Santos staffer was caught impersonating McCarthy's chief of staff to raise money during Santos' 2020 and 2022 campaigns.
'You know, I didn't know that. It happened – I know they corrected it, but I was not informed about it until a later date," he said, pointing out that he had spoken to Santos about it.
After winning his election in November and following media bombardment, Santos admitted lying about elements of his work experience, heritage and education. Recent reports in The New York Times and New York Post indicated that the GOP leadership and some top Republican aides knew about the fabrications prior to his election.
McCarthy, who endorsed Santos and supported his campaign, has downplayed Santos' fabrications and declined calls to try to kick him out of the House as the speaker navigates his leadership from an extremely narrow majority.
Santos voted for McCarthy in all 15 speaker ballots. Should he be forced to leave, McCarthy has no guarantees that the seat will be filled with an ally (or even a Republican).
New York Democratic Representatives Dan Goldman and Ritchie Torres demanded on Sunday that House GOP leaders reveal what they knew about the extent of Santos' dishonesty and cooperate with current and future investigations into Santos.
"It's one thing for a candidate like Mr. Santos to get voters to support him based on a web of lies," the lawmakers wrote in the letter, which was addressed to McCarthy; Rep. Elise Stefanik (RN.Y.), president of the House Republican Conference; and Dan Conston, who heads the Congressional Leadership Fund PAC. "But it's quite another thing if the top Republican leadership knew about Mr. Santos' lies during the campaign and chose to be complicit."