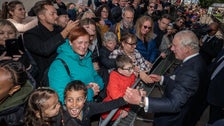 Prince William shook hands and greeted people who had queued overnight to pay their respects to his grandmother. He said to the mourners, "Thank you. It means an awful lot."
King Charles III also shook people's hands and thanked them for waiting more than 20 hours to see his mother in state. In one video, his personal security guard can be heard telling people to put their phones down and "enjoy the moment."
The line to see Queen Elizabeth's casket has become an event in itself as it stretches for miles through central London, with people traveling into the city to see the Queen at Westminster Hall.
On Friday the queue had to close for a while for new entrants as it exceeded 5 miles and waiting times between 22-24 hours. But not before David Beckham also surprised mourners and queued for hours with them for a chance to pay his respects to the Queen.
The Queen's casket will remain in Westminster Hall for people to visit until Monday, September 19, when it will be carried in a procession to Westminster Abbey for a state funeral.
This evening, Princes William and Harry, along with her other grandchildren, will hold a vigil around their grandmother's coffin. The king and his siblings did just that last night, in a ceremony called the vigil of the princes, though Princess Anne was notably among them.