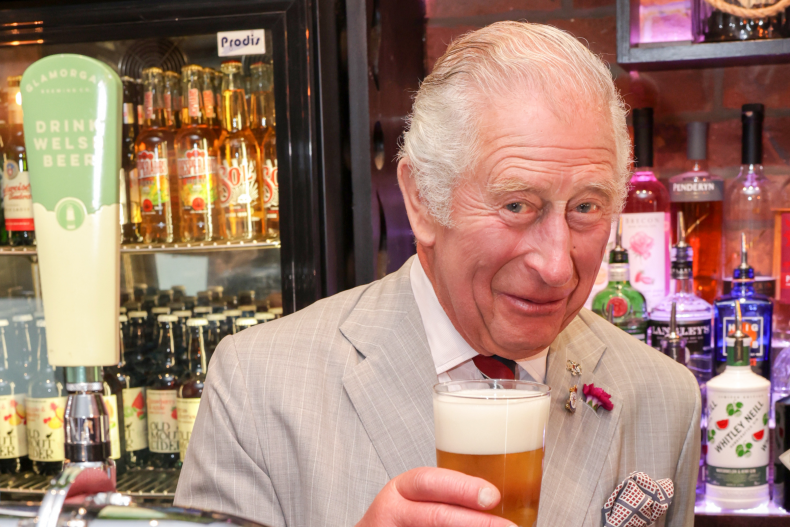 A video showing King Charles III being asked for a beer during the Commonwealth Games has gone viral.
In the 14-second TikTok clip, filmed during the multi-sports event in July, Englishman Daniel Walker asked the then-Prince, "Charles, Charles, can we go for a beer?"
In response, the 73-year-old shot back a quick reply, joking, "Where?" before pointing and saying, "You'll have to recommend somewhere."
The footage was created by Andrew Gould and has since garnered over eight million views and over 739,000 likes on TikTok.
Walker said the moment happened during the opening ceremony of the Commonwealth Games on July 28.
The sporting event, also known as the 'Friendly Games', brings together athletes from the countries of the British Commonwealth as a show of unity.
"I had just finished work and was walking to meet my friends for drinks, where I mind my own business – until suddenly I saw him," Walker told Jam Press. "I thought, 'If I go out for a pint, maybe I'll ask if he wants one too.'"
Walker said the monarch's security loved the interaction so much that they asked Walker to wait so Charles could meet him.
"I met him afterwards and shook his hand. He was about to walk away, but then he saw me and held out his hand before asking what I was doing for work," he added.
Walker, from Birmingham, or "Brum", one of England's largest cities, said: "He noticed I was a 'real Brummie boy' and wished me all the best.
"It's made me like him even more because I saw his human side. I hope he's still up for that pint [of beer]because it would be incredible," Walker said. "It's something I can talk about for the rest of my life."
Charles became king following the death of his mother Queen Elizabeth II on Thursday at the age of 96, with her doctors releasing a statement hours earlier expressing concerns for her health.
At a proclamation ceremony on Saturday, the Privy Council's accession council officially made him King Charles III.
"We … now hereby publish and proclaim with one voice and assent of tongue and heart that Prince Charles Philip Arthur George has now, by the death of our departed Sovereign of Happy Memory, become our only lawful and rightful Liège Lord Charles. III ' said the council at St. James' Palace in London.
A procession took place on Wednesday for Her Majesty the Queen to transport the coffin of the late royal family from Buckingham Palace in London to Westminster Hall, where it will be laid out in state.
Over the next four days, large crowds are expected to wait in long lines for a chance to walk past the coffin and pay their respects.
The funeral of Queen Elizabeth II will take place on Monday.