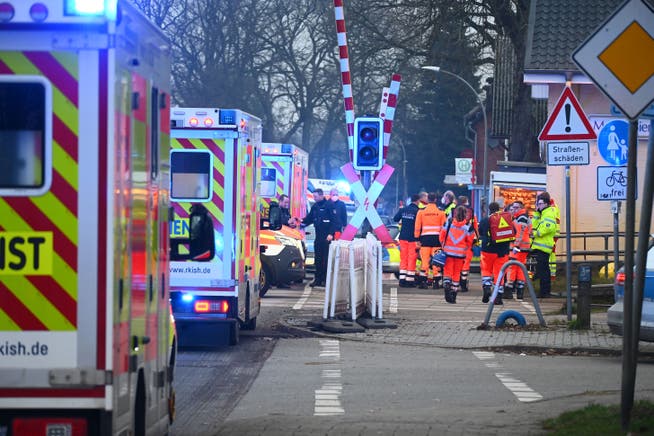 Germany

"It's very terrible": Two dead and several injured after a knife attack in a regional train
There are dead and injured in an attack on a regional train in Brokstedt, Schleswig-Holstein. A man is arrested. Background and possible motives are initially unclear.
Two people were killed and several injured in a knife attack on a regional train from Kiel to Hamburg. A man between the ages of 20 and 30 was arrested, a police spokeswoman said on Wednesday evening. There were initial indications that the alleged perpetrator could be mentally confused. The German press agency learned this from security circles. According to preliminary findings, the alleged attacker had not previously been noticed as an extremist.
"The background is still unclear, as is the identity of the victims," ​​said the police spokeswoman. The alleged perpetrator attacked the people in the still moving train. According to the spokeswoman, the alleged perpetrator was also injured. There were different reports on the number of people injured – it initially varied between five and seven. There was also talk of life-threatening injuries in several media reports.
A woman from Bad Bramstedt was waiting for her daughter a few meters from the train station. The 18-year-old student was returning from the university in Kiel by train. "She saw a person stab someone four rows in front of her," the mother said. She is currently unable to speak to her daughter, only write, said the visibly moved woman. The daughter is still waiting to make a statement to the police. The young woman was unharmed. "But I think she's doing badly. What kind of people do that?" said the mother.
Around 3 p.m., the police had received several calls from passengers on the train. The train was stopped upon notification, after which the events had shifted to the platform, according to the spokeswoman. The perpetrator had been arrested there, but she could not say by whom. The man, who was moderately injured, was taken to a hospital.
According to the federal police, the crime happened shortly before 3 p.m. before the train arrived at Brokstedt station in the Steinburg district. The train station has been closed for the time being. Brokstedt is a small community on the railway line between Elmshorn and Neumünster.
'It's very terrible. We are all completely shocked and horrified that something like this happened, »said the interior minister of Schleswig-Holstein, Sabine Sütterlin-Waack, to the NDR. The minister got the message in the state parliament and consulted Prime Minister Daniel Günther. She arrived in Brokstedt early in the evening.
Her thoughts are with the families and relatives of the victims and she thanks "the police officers who arrested the perpetrators and all the rescue workers who cared for the injured," said a statement from her ministry. Federal and state police worked closely together. "It is clear to me that the horrific act is directed against all humanity," Sütterlin-Waack was quoted as saying in the message.
According to the railways, train traffic between Flensburg and Hamburg and between Kiel and Hamburg was affected. Deutsche Bahn said in the evening: "Our deepest sympathy belongs to the families of the victims. We wish the injured a speedy and full recovery." (dpa)