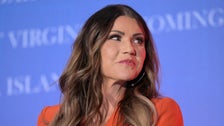 South Dakota Governor Kristi Noem (right), who has been put forward as a potential 2024 presidential candidate, called on Tuesday for more states to pass extreme laws banning abortion.
Abortion is illegal in South Dakota unless the mother's life is in danger, due to a trigger law that took effect after the Supreme Court overturned the landmark Roe v. Wade ruling last summer.
Noem is now urging "every governor" to adopt similar policies.
"I think talking about situations and making statements is incredibly important, but also taking action and making policies and putting in place policies that protect lives are even more important because that's what will really save lives," Noem told TBEN News.
Ian Fury, Noem's spokesman, earlier this month criticized Florida Governor Ron DeSantis (R) for "hiding behind a 15-week ban" on abortion.
DeSantis was vague about abortion, but last month hinted at the possibility of passing a six-week ban in the state.
"I am willing to sign the big life bill," DeSantis said in December. "That's what I've always said I would do."
While Republicans have a supermajority in the Florida House and Senate and could easily pass more restrictive laws, DeSantis' widely anticipated presidential run may explain his reluctance to implement the change.
When asked if she agreed with Fury's comments about DeSantis, Noem told TBEN News, "I believe every leader now has a chance to stand for every life. And I am proud that in South Dakota we did just that."
Republicans have continued to push anti-abortion policies despite the party's poor performance in the November midterm elections, which even former President Donald Trump attributed to its extreme abortion views.
During the interview, Noem denied the Daily Beast's recent report that Trump had given her his approval to go after DeSantis.
"It's been quite some time since I've had a chance to have a personal conversation with President Trump," Noem said.
The governor did not give a clear answer when asked if she is planning her own candidacy for president.
"I'm not convinced I should be president, but I also believe this country needs someone to lead us with a vision," Noem said.