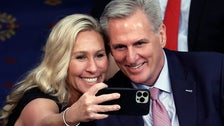 MSNBC's Lawrence O'Donnell said Monday that Kevin McCarthy (R-Calif.) had received "another entry in the record books for the strangest and most stupidly worded things said" by a House speaker.
O'Donnell pointed to a New York Times article that quoted McCarthy telling a friend, "I'll never leave that woman." I will always take care of her."
McCarthy wasn't talking about "his wife of 31, the mother of his two kids," O'Donnell noted.
Instead, McCarthy reportedly took a political wedding vow to extremist Representative Marjorie Taylor Greene (R-Ga.). The Times article – titled "How Kevin McCarthy Forged a Rock-solid Bond with Marjorie Taylor Greene" – explained how Greene's help was crucial to McCarthy finally winning his longstanding bid for the speakership.
McCarthy "can only hope no one at home in Bakersfield, California, was reading The New York Times today," added O'Donnell.