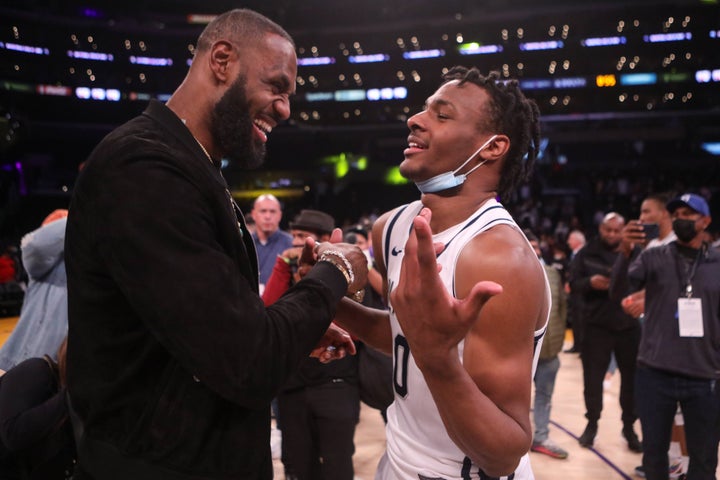 LeBron James celebrated his son LeBron James Jr., aka Bronny, earlier this week after a special night celebrating his final season of basketball at Sierra Canyon School in the Chatsworth neighborhood of Los Angeles, California.
The Los Angeles Lakers star posted a touching message to Instagram on Thursday following the 18-year-old's participation in his team's senior night, which celebrates senior high school athletes before their final home game of the season.
"So damn proud of the young man you've become, @bronny!!" James wrote in the post's caption. "Yesterday we celebrated you for Senior Night! I can't believe how fast time flies by, but at the same time I haven't taken for granted being your dad for a second! I love you boy!"
He continued: "Keep leading, be an example to/for your siblings/your peers and most of all, just keep being YOU!!!!"
James posted a slideshow of photos from the night he was seen with his wife Savannah James, Bronny and their other two children: Bryce, 15, and Zhuri, 8.
Bronny's siblings can be seen in a large cutout photo from high school when he was younger. Bryce, a sophomore, plays on the same team as Bronny.
James has on several occasions publicly expressed his desire to one day play with Bronny in the NBA.
When asked by a Twitter user in May if he still planned on playing with his son James replied"That's the plan! God willing."