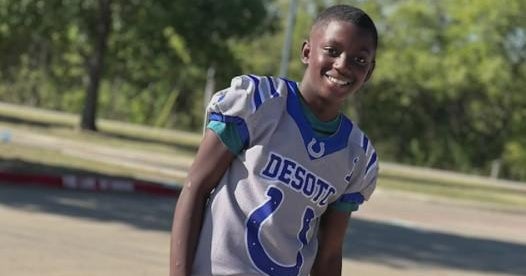 DALLAS (TBEN) — A day after his death from a shooting, 11-year-old De'Evan McFall's mother speaks out.
"I have to witness it and be there… I will never get over it," said Vashunte Settles.
Her son was shot at the Signature at Southern Oaks apartment complex in East Oak Cliff after a fight between two girls escalated, police said.
Settles said her daughter fought with a 14-year-old girl, who pulled out a gun and shot it; However, the bullet missed her and hit her brother instead.
Police said the teenage suspect ran into a nearby complex, where she was later found by police and taken into custody. She has since been charged with murder and is being held at the Henry Wade Juvenile Justice Center.
"He was so innocent. He definitely didn't deserve it," she said. "I wish the younger generation would stop and think before they do irrational things, because in this situation, I'm not the only one in pain."
Settles said her entire family is devastated.
"I never get to see his big, beautiful smile," said his grandmother, Lois Williams.
They are now pleading with the community to stop the violence.
"No more violence," said family spokesman Dr. R Chambers. "We need to let the world know there is a better way. We don't have to resort to violence."
After his death, Settles wants the world to know how much joy her son has brought to their lives.
"He was a very talented young man, he had a great future ahead of him," she said. "He had basketball teams, football teams… they all reached out to him and wanted to work with him because he was naturally talented."
She hopes her tragic loss will be a lesson to others.
"Take this story and do something productive with it. Don't let my son have died in vain and let this save someone else's child," Settles said.
DeSoto ISD – where McFall went to school – said they will provide counselors to anyone who needs help coming to terms with his passing.
At this time, details about the fight and how the 14-year-old suspect obtained the weapon remain unknown.