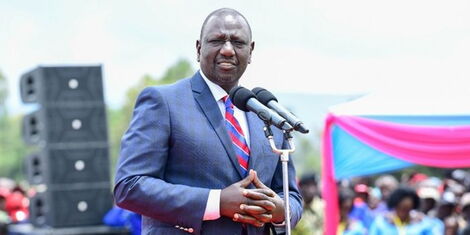 President-elect William Ruto is perhaps the perfect example of the famous saying that through education a farmer's son can become the president of a great country.
But, of course, he portrays himself as a farmer's son, a charcoal and chicken salesman who rose to become Kenya's fifth president-elect.
William Samoei Ruto has had an eventful academic life, having been awarded a Doctor of Philosophy Degree (PhD) in plant ecology.
At the heart of this success is a little-known Wareng High School in Uasin Gishu County. The President-elect attended Wareng High School for his 'O' Levels education between 1981 and 1984.
President-elect William Ruto addresses the congregation in Nakuru on Sunday, September 4, 2022.
William Ruto
In May 2019, during the National Prayer Breakfast at Safari Park Hotel, he recalled wearing his first pair of shoes after taking national exams in 1981.
"My father bought my first pair of shoes in 1981 from a Mr. Onyango on the street. The shoes cost 60 Ksh, he couldn't afford the bata shoes," recalls Ruto.
Wareng High School is currently a mixed day high school in the Pioneer location in Kapsaret constituency. The institution is ranked by the Ministry of Education as a sub-province school with a population of 1,000 students.
During his time at Wareng, the young Ruto was an active member of the Christian Union and a volleyball player. Moreover, his star in leadership began to manifest itself in his role as a hostel captain.
Ruto then attended Kapsabet High School in neighboring Nandi County, where he completed his advanced education (A' levels).
He would later be enrolled at the University of Nairobi, where he completed a Bachelor of Science Degree in Botany and Zoology. He graduated in 1990 before returning to the institution for his postgraduate training.
In 2012, Ruto continued his studies, this time obtaining his PhD from the University of Nairobi. He obtained his doctorate in 2018 after meeting all the conditions.
Wareng High School has since sent a congratulatory message to Ruto, citing his elevation to the county's highest seat as inspiring to the institution's members and fraternity.
In a statement published in a local newspaper, the management of Wareng High School expressed its pleasure at the milestone Ruto has reached.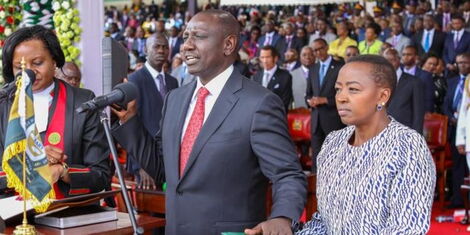 Vice President William Ruto took the oath of office in 2017.
File
"Accept our heartfelt congratulations on your win and our best wishes as you prepare to take on the responsibilities. You are a great inspiration to our alumni and our current students," read the statement in part.
Access to politics
Ruto was inducted into national politics in 1992 when former President Daniel Moi hired him to lead the KANU campaign team in the first multi-party elections after Section 2A was repealed to bring Kenya back to pluralism.
He was treasurer of YK92, the youth division that participated in KANU's campaigns. This moment has been cited as an important milestone in his political career.
Ruto, 55, is expected to be sworn in as Kenya's fifth president on Tuesday, Sept. 13, after the Supreme Court confirmed him as the duly elected president in the Aug. 9 general election.