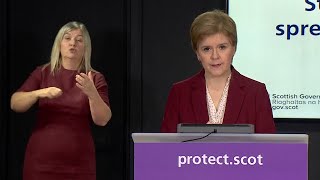 Nicola Sturgeon has announced additional lockdown measures in an attempt to reduce the country's infection rate.
The Scottish Prime Minister has widened the rules which were originally implemented by law on January 5, telling the Scottish Parliament the new restrictions are "regrettable" but are a "means to an end".
With more than half of all cases in the country blamed for the new variant of the virus, with the prime minister telling parliament it "makes it much more difficult to bring the R number below 1 without severe restrictions."
Under the new rules, which take effect on January 16, click-and-collect services will be banned, except for those that serve essentials, such as clothing, baby gear and books. Stores should provide staggered appointment times to avoid contact with customers.
In addition, take-out and hot drinks can only be served outside the building, for example through a door or service hatch, and a ban has been imposed on alcohol consumption in public. in level 4 zones, including those purchased in take-out services.
Guidelines have been put into law on whether people should be allowed to work outside the home, with the Prime Minister saying you should work from home if you did in the first year lockdown last.
In an address to the Scottish Parliament on January 13, Nicola Sturgeon said that "the number of cases is still so high and the new variant is so contagious that we have to be as resilient and effective as possible", with the new variant constituting 60 pc of all new cases registered in recent weeks.
Scotland also recorded its highest coronavirus death figure since May in the week ending January 10.
The restrictions will remain in place until the end of January, although Ms Sturgeon has not ruled out extending that lockdown if necessary. However, the Prime Minister said the lockdown restrictions could have an effect in Scotland, with the increase in the number of daily cases slowing since the year of the yew.
As of January 12, 191,965 had received their first dose of the vaccine in Scotland, with those over 80 and frontline workers due to receive the first dose by mid-February.
All areas under level 4 restrictions will be placed under the new rules, with islands remaining under level 3 restrictions. People have also been told not to enter or leave Scotland except in exceptional circumstances.
On January 6, Queen Elizabeth University Hospital turned away ten patients who would typically be treated at the Glaswegian intensive care hospital in Govan because it was "swamped with covid cases".
New guidelines for these shields were also introduced. If you're shielding but can't work from home, don't go to work – the chief medical officer will write down anything that applies and act as a doctor's note.
Schools are due to close until January 18, with online classes currently taking place.
.