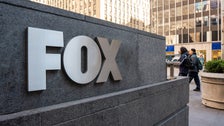 Alan Komissaroff, senior vice president of news and politics at TBEN News, passed away Friday. He was 47.
"Tragically, Alan passed away today after suffering a heart attack at home nearly two weeks ago," TBEN News Media CEO Suzanne Scott and President Jay Wallace said in a memo to staff.
The pair praised Komissaroff, who joined the conservative network before its launch in 1996, as "a leader and mentor" who was "integral to our day-to-day news operations and played an indispensable role in every election cycle."
"The recent midterm election coverage was easily one of the finest nights of special coverage he has produced throughout his career," they added.
TBEN News anchor Bret Baier paid tribute to his late colleague on his show "Special Report," saying he was "heartbroken." Baier offered his "sincere condolences" to Rachael, Komissaroff's wife, and their two teenage children.