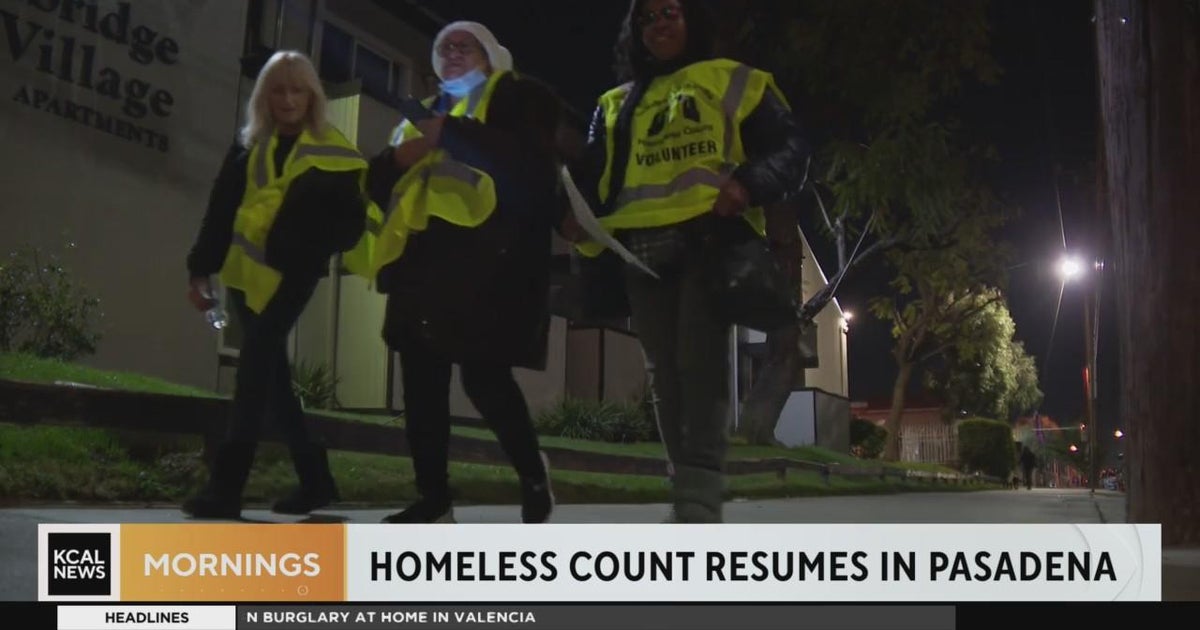 The 2023 Greater Los Angeles Homeless Count, a snapshot of homelessness in Los Angeles County that helps determine the distribution of funding and services to the unhomed, began on Tuesday and the count is expected to continue through Thursday.
Volunteers were out Wednesday morning, also in Pasadena, as an effort to count Los Angeles County's unhoused population for a second day.
"We've been effective in getting people off the streets in recent years, and we're about 50 percent from where we were. But even that's too much," Pasadena Mayor Victor Gordo told KCAL News. "One is too many. And the numbers are constantly evolving, so we must continue to strive to have no people on the street."
Because Pasadena is a smaller jurisdiction, they try to do a lot of one-on-one interactions with the city's unhoused.
Volunteers hand out cold-weather packages of toiletries and other items and ask if people need any medications. Pasadena has its own public health department with Narcan available, and employs vaccination teams to administer Covid and flu shots.
This year's Los Angeles County census could be of additional significance given the priority that new Los Angeles Mayor Karen Bass has placed on addressing the crisis since taking office in November. She declared a state of emergency for homelessness as its first official act and has emphasized cooperation with the county and LAHSA, a joint jurisdictional authority coordinated by both the city and county. The County Board of Supervisors quickly followed Bass's announcement with its own state of emergency declaration, just like the neighboring city of Long Beach.
"We're building it together Within Safe camp solution. We are reducing red tape to build homes faster and at a lower cost," LA Mayor Karen Bass said Monday as she introduced Va Lecia Adams Kellum, the new head of the LA Homeless Services Authority. "And Dr. Adams Kellum, we're bringing new leadership to LAHSA that's fully aligned with city and county efforts.
On Tuesday, as she and several volunteers officially kicked off, Karen Bass had a message of hope.
"I expect to see people still in tents, and I can't wait until we get a chance to count them and get them out of the tents and into housing," Bass said. "I'm excited about all the enthusiasm and all the volunteers that I know will be there."
The Los Angeles Homeless Services Authority census will be conducted with the help of thousands of volunteers, with results expected by late spring or early summer. It begins Tuesday in the San Fernando and San Gabriel valleys, followed by counts in West and East Los Angeles on Wednesday. Thursday's count will take place in South Los Angeles, the Metro area and the Antelope Valley. Several local officials, including Bass, will hold an introductory briefing Tuesday night at LA Family Housing in North Hollywood to kick off the count.
Wendy Greuel, chair of the LAHSA committee, said at a briefing Monday that volunteers are still needed to help count. People can register at theycountwillyou.org.
LAHSA has announced changes to this year's census, including using a new app and ensuring those who count have access to paper maps and count sheets if there are any issues connecting to the internet.
For the first time, LAHSA is partnering with Esri, a geographic information mapping system software company, to streamline their efforts during this year's census.
"The app they're using should be much simpler," said Ahmad Chapman, communications director at LAHSA. "It really helps us determine what services are needed where and how we can help people who are homeless enter shelters and on their way to permanent housing."
In addition to tracking where volunteers go during their count, the app tracks people, encampments, and vehicles across the country to collect as much data as possible.
Agency officials said earlier this month that they also plan to hire a demographer and two data scientists for data analysis.
The 2022 homeless count by LAHSA found that there were 41,980 people without a home in the city of Los Angeles, an increase of 1.7% from 2020. In the county, there were 69,144 people without a home, an increase of 4.1 %.
"I think we're going to see a larger population. I know we're going to count everyone who's in a shelter and everyone who's outside," said Andy Bales, president and CEO of Union Rescue Mission. "I can tell you firsthand that we have more families than we've ever had. We have over 250 families in our three locations with 500 children, which is an all-time high."
While it is extremely difficult to precisely count every single unhoused person in Los Angeles County, Bales is optimistic about the future as Mayor Bass' guidelines are already put into effect.
"We just have to listen to Mayor Karen Bass when she says we need not only housing, but also mental health and addiction treatment," he said.
Last year's census was followed by criticism from some officials, including city council members, who pointed to problems accessing data related to the census and inconsistencies in communication between the agency and council districts. Some council members called for a third-party census of Los Angeles' unhoused population and a multi-year audit of the authority's past counts.