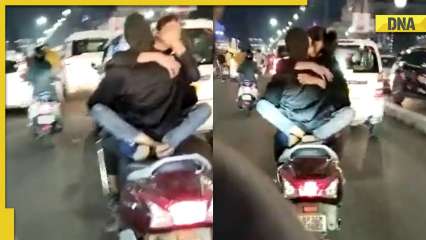 A video from Uttar Pradesh's Lucknow went viral on social media on Tuesday, showing a couple in love on a riding scooty in the busy Hazratganj area of ​​Lucknow, according to reports. Two people are being investigated by the Uttar Pradesh Police for alleged involvement in an "indecent act" involving a two-wheeler in Lucknow's Hazratganj under the provisions of the Motor Vehicles Act.
The camera shows a woman hugging the rider of the two-wheeler in the busy street. The couple was filmed from behind by another vehicle and the video quickly went viral, gaining millions of views on social media. Police took note of the video and launched an investigation after it surfaced on social media and became popular.
Video of the entire event has been circulating on social media, but police have claimed that two girls were on the two-wheeler and they are investigating the incident.
"The couple seen in the video is not a boy and a girl as it appears, but these are two girls. The whole incident is under investigation and another investigation will take place under the relevant sections of the MV law," said Additional Deputy Commissioner of Police (ADCP) Central Rajesh Srivastav.
The video comes from Lucknow and was shot in Hazratganj district, according to Lucknow Central Zone DCP Aparna Rajat Kaushik. Two police teams have been sent to find the couple, Turn now reported.
Police are also reviewing CCTV footage from nearby cameras in an attempt to locate the couple. According to the statement, they would be punished for violating the Motor Vehicles Act and for spreading obscenity. More information on this is under investigation.
READ | Rainfall alert in Delhi, Haryana, Punjab, UP and other states; check the weather forecast from IMD
(with input from ANI)