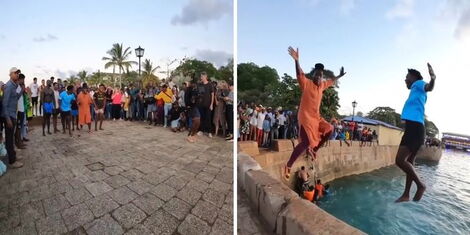 Residents of Zanzibar's Forodhani Beach were treated to a pleasant surprise after Lupita Nyong'o joined them in diving the beach.
Thrilled and overwhelmed by the Oscar-winning actress's presence, the resident could hear her name chanted.
"Yes, I've come. You invited me and I'm here," the actress declared as she greeted the team on the beach in a video she shared on her social media pages.
Notably, three divers jumped into the beach with a beautiful portrait of the Black Panther actress.
A collage of Lupita Nyong'o before jumping on Zanzibar beach
File
"Lupita Nyong'o, welcome to Zanzibar!" the excited residents said as they jumped onto the beach.
Unhindered by the water and the height, Lupita jumped in with her flowy orange sundress and matching open-toed shoes.
"Yeah, it worked," she said, soaking wet as she climbed the stairs at the end of the beach.
"My heart is still smiling. Many thanks to all the people who support us. You are the best, you make things possible for us. I don't know how to thank you enough," she shared on Instagram.
According to reports, the actress had traveled to shoot a documentary nearby.
On September 3, Lupita lost the Emmy Award to former US President Barrack Obama, who was crowned for his narration of the five-part documentary titled 'Our great national parks', available for streaming on Netflix.
Barrack was nominated along with Lupita Nyong'o in the Outstanding Narrator category for her work in (Serengeti II), Kareem Abdul-Jabbar (Black Patriots: Heroes of the Civil War), David Attenborough (The Mating Game), and W. Kamau Bell (We need to talk about Cosby).
Lupita Nyong'o poses for a photo in Lamu on March 16, 2021
Facebook